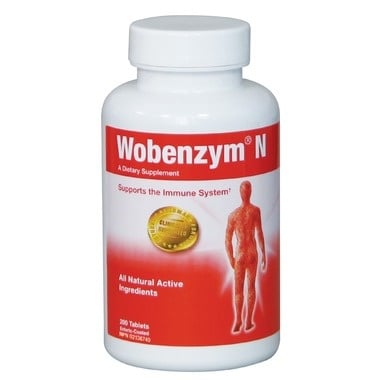 Wobenzym N is the authentic systemic enzyme formula trusted by millions worldwide to provide clinically demonstrated support for joint and inflammation health. First introduced in Germany as a pharmaceutical over 40 years ago, Wobenzym N has been updated, but still features the timetested, synergistic combination of plant-based enzymes, pancreatic enzymes and antioxidants. These powerful yet delicate enzymes are protected by a vegetable-based enteric coating which ensures optimal absorption and utilization in the blood stream.

Features & Benefits:
Provides support for healthy joints
Improves gastrointestinal motility
Aids in sports injury recuperation
Suggested Usage: Take three (3) tablets, two (2) times daily, at least 45 minutes before meals or as recommended by your healthcare Professional.

Medicinal Ingredients (per tablet):
Sus scrofa, Pancreatin** ... 100 mg
Carica papaya, Papain** 164 FIP-units*** ... 60 mg
Ananus comosus, Bromelain** 225 FIP-units ... 45 mg
Sus scrofa, Trypsin** (pancreas) 720 FIP-units ... 24 mg
Sus scrofa, Chymotrypsin** ... 1 mg
Sophora japonica, Rutoside trihydrate** (Rutin) ... 50 mg
(pancreas) 18,666 USP units protease
(pancreas) 300 FIP-units
** From dried purified aqueous extracts.
*** FIP is the measurement of enzyme activity according to the methods of the International Pharmaceutical Federation.

Non Medicinal ingredients: Cellulose, vegetable-based enteric coating, vegetable stearate, natural vanilla flavour, purified water.
Estimated delivery: between 1-2 days in Ontario/Quebec and 1-4 days Canada-wide