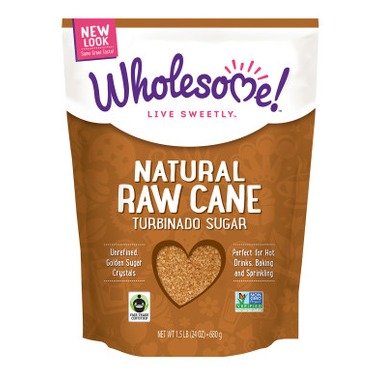 Wholesome Sweeteners Raw Cane Sugar is a golden-colored sugar with large sparkling crystals and a rich aroma. It is the ultimate topping for cakes, cookies, muffins, crumbles and pies and a wonderful start to the day sprinkled on cereal or fruit. Use as a one-for-one replacement for refined white and brown sugars.

Raw Cane Sugar, also known as Demerara- or Turbinado-style sugar, is made by crushing the freshly-cut sugar cane to squeeze out the juice, rich in, vitamins and minerals. The cane juice is heat-evaporated and spun in a centrifuge, or turbine, to produce the large sparkling golden crystals. Our Raw Cane Sugar has a distinctive color and flavor produced by keeping the sugar cane molasses in and around the crystals. It is not blended, colored or chemically refined.

The Fair Trade Certified logo is Wholesome's guarantee that our farmers' cooperatives are paid directly for the cane grown and milled. This means that the farmers can compete with factory farms, cultivate the quality of their crops, send their kids to school and build thriving communities.
Estimated delivery: between 1-2 days in Ontario/Quebec and 1-4 days Canada-wide