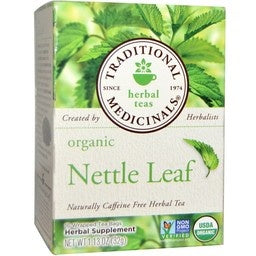 Traditional Medicinals Organic Nettle Leaf Tea is used in Herbal Medicine as a Nutritive Tonic.

Recommended use: Organic Nettle Leaf is an herbal tea traditionally used in Herbal Medicine as a diuretic, and used in Herbal Medicine as supportive therapy to help relieve rheumatic complaints, and as a nutritive tonic.

Recommended dose: Adults: Drink 1 cup (1-2 tea bags) 3 times daily.

Directions of Use: Pour 240 mL freshly boiled water over 1 to 2 tea bags and allow to steep, covered, for 10 minutes. Gently squeeze the tea bag to release the remaining extract.

Duration of use: As a diuretic for occasional use only. For other uses no restriction.

Medicinal ingredients: Each tea bag (2.0g) contains: Organic nettle leaf* (Urtica dioica) 2,000 mg.

Cautions: Consult a health care practitioner if symptoms persist or worsen.

Contraindications: Do not use if you are pregnant or breastfeeding.
Estimated delivery: between 1-2 days in Ontario/Quebec and 1-4 days Canada-wide