A multi-vitamin supplement that is a factor in the maintenance of good health. Helps the body metabolize carbohydrates, fats and proteins. Helps to form red blood cells. Helps normal growth and development. Helps in tissue formation. Helps to maintain cognitive functions. Helps in energy production. Helps in the normal function of the immune system. Helps to support liver function.

Thorne B Complex contains the entire B-complex, including the activated forms of vitamin B2 (riboflavin 5'-phosphate), vitamin B6 (pyridoxal 5'-phosphate), vitamin B12 (methylcobalamin), and folate (5-MTHF) as well as 28 mg of choline.
Ingredient Amounts
Serving Size: 1 Capsules
Servings Per Container: 60
Amount
Biotin
400mcg
Choline (Citrate)
28.2mg
Folate (L-5-MTHF)
400mcg
Vitamin B1 (Thiamin HCI)
110mg
Vitamin B12 (Methylcobalamin)
400mcg
Vitamin B2 (Riboflavin 5'-Phosphate Sodium)
10mg
Vitamin B3 (Niacin)
10mg
Vitamin B3 (Niacinamide)
130mg
Vitamin B5 (Pantothenic Acid)
110mg
Vitamin B6 (Pyridoxal 5'-Phosphate)
10mg
Other Ingredients: Calcium Laurate, Hypromellose Capsule, L-Leucine, Magnesium (Citrate), Microcrystalline Cellulose, Silicon Dioxide
Estimated delivery: between 1-2 days in Ontario/Quebec and 1-4 days Canada-wide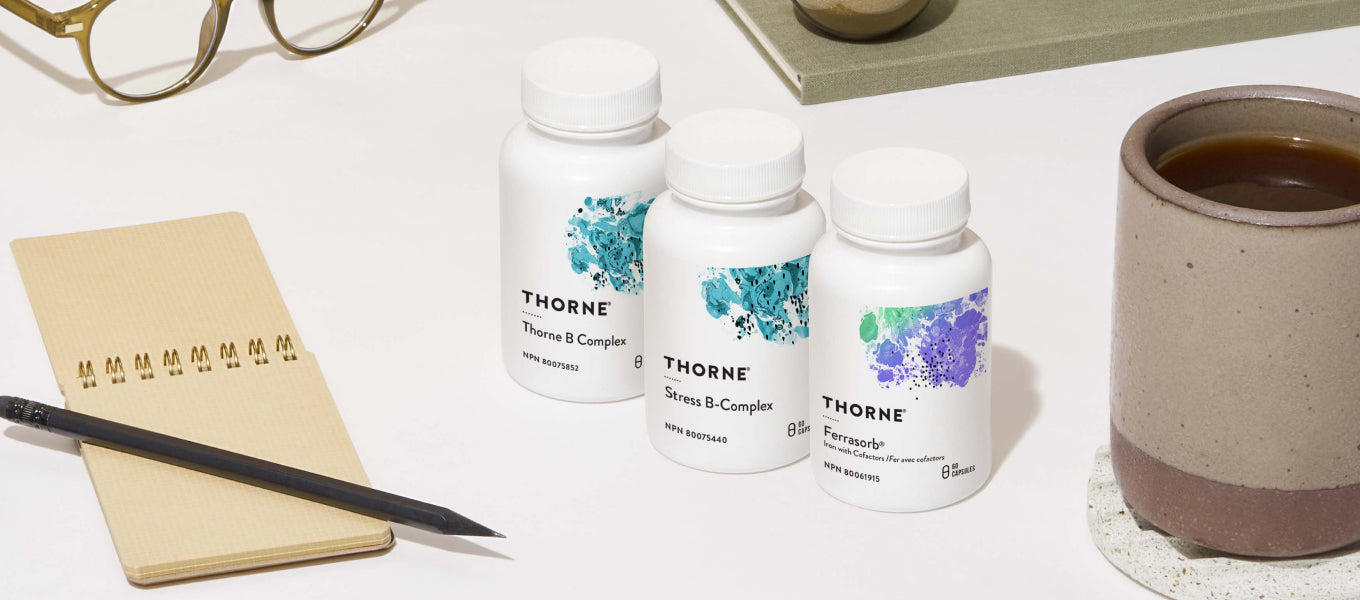 Thorne
The most trusted name in personalized, scientific wellness. Start your healthy aging journey today.
Shop Now