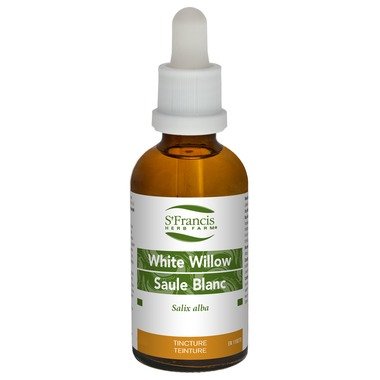 St Francis White Willow 100ml
White Willow bark is used for pain caused by inflammation, muscle and joint aches, and systemic connective tissue disorders characterized by inflammatory changes. It also serves to treat rheumatic ailments, gout, and inflammatory joint disease.

Suggested Usage: Adults: Take 0.66-1 ml (20-30 drops) 3-4x daily in a little water on an empty stomach.

Medicinal Ingredients (per 1 ml): White Willow bark (Salix alba) 250 mg QCE (1:4)

Non-Medicinal Ingredients: Grain alcohol, Distilled water

Cautions and Warnings: Consult a health care practitioner if symptoms worsen or persist.

Contraindications: Do not give to children. Do not use if you are pregnant or breastfeeding, if you have allergies to aspirin, or if you are on anticoagulant or antiplatelet therapy.
Estimated delivery: between 1-2 days in Ontario/Quebec and 1-4 days Canada-wide