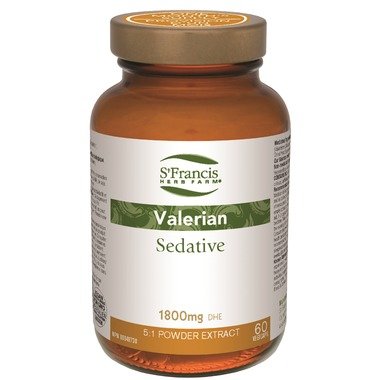 This product has an expiration date of November 2020
St. Francis Herb Farm Valerian VegiCaps are traditionally used in Herbal Medicine to help relieve nervousness (calmative/sedative) and as a sleep aid. St. Francis Herb Farm Valerian VegiCaps offer the convenience of capsules coupled with greater potency than is found in other capsules.

Benefits:
Natural
Vegan
Gluten Free
Non-GMO

Medicinal Ingredients (per capsule): Valerian (Valeriana officinalis, root) 360 mg (5:1 extract, Dried Herb Equivalent 1800 mg).

Non-Medicinal Ingredients: Magnesium stearate, Hypromellose (vegicap), Maltodextrin.

Directions: Adults: Relief of nervousness: Take 1 capsule 1-3 times daily on an empty stomach. Alternatively, when used as a sleep aid, 1-2 capsule(s) can be taken 30-60 minutes before bedtime. Take an earlier dose of 1-2 capsules during the evening, if necessary.

Cautions and Warnings: Consumption with alcohol, other medications or natural health products with sedative properties is not recommended. Consult a health care pratitioner: if sleeplessness persists continuously for more than 3 weeks (chronic insomnia); if symptoms worsen or persist.

Known Adverse Reactions: Some people may experience drowsiness. Exercise caution if operating heavy machinery, driving a motor vehicle or involved in activities requiring mental alertness within 2 hours of consumption.
Estimated delivery: between 1-2 days in Ontario/Quebec and 1-4 days Canada-wide