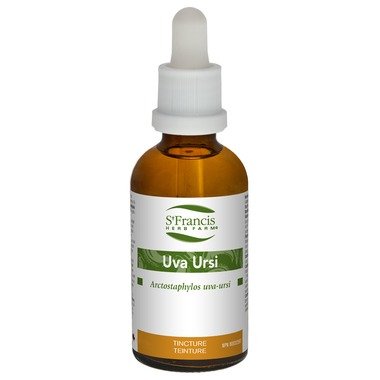 St Francis Uva Ursi 100ml
Uva Ursi is an antimicrobial herb great for both acute and chronic recurring urinary tract infections. Also has diuretic properties.

Suggested Usage: Adults: 1.5-3 ml (45-90 drops) 3x daily in a little water on an empty stomach at first sign of a urinary tract infection.

Duration of Use: Use no more often than 5x yearly at maximum stretches of 7 days for acute infection or for 30 days at most once yearly for cystitis prevention.

Medicinal Ingredients (per 1 ml): Uva Ursi leaf (Arctostaphylos uva-ursi) 250 mg QCE (1:4)

Non-Medicinal Ingredients: Distilled water, Grain alcohol, Vegetable glycerine

Cautions and Warnings: Uva Ursi should not be taken with foods/medicines that acidify the urine; if urine pH is < 7, take 1 tbsp of sodium bicarbonate once or twice/day in water between meals. Consult a health care practitioner if symptoms worsen or persist.

Contraindications: Do not use if pregnant or breastfeeding; if < 12 yrs of age; if you suffer from kidney disorders. Discontinue use if you experience a hypersensitivity reaction.
Estimated delivery: between 1-2 days in Ontario/Quebec and 1-4 days Canada-wide