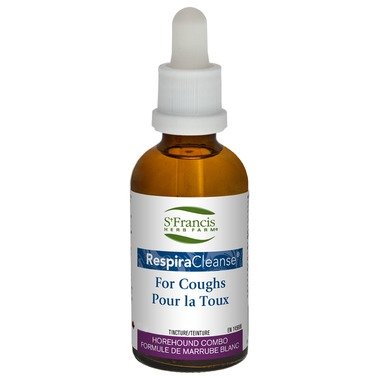 St Francis Respiracleanse 100ml
Ginger root is the lead ingredient in RespiraCleanse and has been used medicinally with great benefit for thousands of years in a broad range of cultures and civilizations as an expectorant (a remedy that promotes the drainage of mucus from the lungs and respiratory tract) and anti-tussive (a remedy that relieves or suppresses coughs).

RespiraCleanse is a formula that displays an exquisite balance of herbal ingredients. Complementary in their actions, these herbs help make RespiraCleanse an excellent, all-around expectorant and anti-tussive remedy for all types of coughs, both chronic and acute.

Suggested Usage: Adults: Take 2 ml (60 drops) 3x daily in a little water on an empty stomach.

Medicinal Ingredients: Mullein flower and leaf (Verbascum thapsus), Horehound flowering herb top (Marrubium vulgare), Plantain leaf (Plantago major), Red Clover flower (Trifolium pratense), Elecampane root (Inula helenium), Marshmallow root (Althaea officinalis), Lobelia herb top (Lobelia inflata), Ginger rhizome (Zingiber officinale)

Non-Medicinal Ingredients: Grain Alcohol, Distilled Water, Vegetable glycerine

Cautions and Warnings: Consult a health care practitioner if symptoms worsen or persist.

Contraindications: Do not use if pregnant or breastfeeding.

Known Adverse Reactions: Hypersensitivity/allergy has been known to occur, in which case discontinue use.
Estimated delivery: between 1-2 days in Ontario/Quebec and 1-4 days Canada-wide