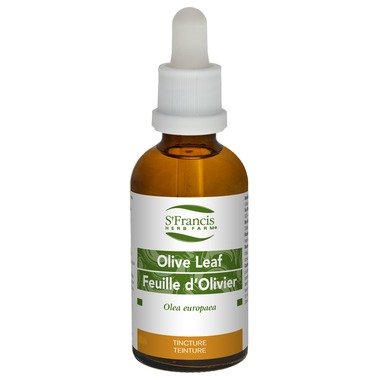 St Francis Olive Leaf 100ml
Olive leaf is used to treat conditions associated with a virus, retrovirus, bacterium, or protozoan - microbial agents that can induce influenza, colds, meningitis, Epstein-Barr Virus (EBV), encephalitis, herpes I and II, and shingles.

Suggested Usage: Adults: Take 2-4 ml (60-120 drops) 3x daily in a little water on an empty stomach.

Medicinal Ingredients (per 1 ml): Olive leaf (Olea europaea) 250 mg QCE (1:4)

Non-Medicinal Ingredients: Grain alcohol, Distilled water

Cautions and Warnings: Consult a health care practitioner if you are pregnant or breastfeeding; if symptoms worsen or persist; and before use if you are taking blood pressure medication.
Estimated delivery: between 1-2 days in Ontario/Quebec and 1-4 days Canada-wide