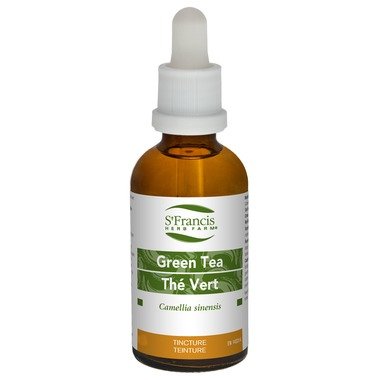 St Francis Green Tea 100ml
Green Tea boosts the immune system, besides cleansing and detoxifying vital organs. It also lowers cholesterol, blood pressure, and blood sugar levels. A powerful antioxidant, Green Tea helps prevent and reduce arterial sclerosis, strokes, and heart disease.

Suggested Usage: Adults: Take 1-2.5 ml (30-75 drops) 3x daily in a little water on an empty stomach.

Medicinal Ingredients (per 1 ml): Green Tea leaf (Camellia sinensis) 250 mg QCE (1:4)

Non-Medicinal Ingredients: Distilled water, Grain alcohol

Cautions and Warnings: The amount of caffeine in our full daily dose is equivalent to approximately one cup of green tea. Avoid this product if you are sensitive to caffeine.

Contraindications: Do not use if you are pregnant or breastfeeding.
Estimated delivery: between 1-2 days in Ontario/Quebec and 1-4 days Canada-wide