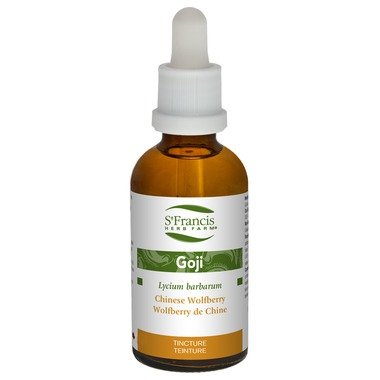 St Francis Goji (Wolfberry) 100ml
Wolfberry, derived from Goji berries, is used for a variety of chronic conditions and ailments. As a tonic for the eyes, Wolfberry provides therapeutic relief for various ophthalmic problems, including macular degeneration and blurred vision. It also fortifies the liver, kidneys, and blood, while acting as an antioxidant, inhibiting the effects of the aging process.

Suggested Usage: Adults: Take 0.83-1.66 ml (25-50 drops) 3x daily in a little water on an empty stomach.

Medicinal Ingredients (per 1 ml): Goji berry (Lycium barbarum) 250 mg QCE (1:4)

Non-Medicinal Ingredients: Distilled water, Grain alcohol

Contraindications: Do not use if you are pregnant or breastfeeding; if you are taking blood-thinning medication.
Estimated delivery: between 1-2 days in Ontario/Quebec and 1-4 days Canada-wide