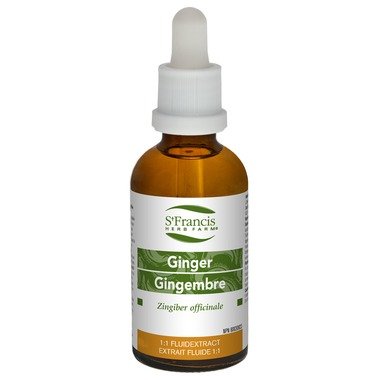 St Francis Ginger w 1:1 FluidExtract 100ml
Helps prevent nausea and vomiting associated with motion sickness and/or seasickness. Traditionally used in Herbal Medicine to help relieve digestive upset/disturbances, including lack of appetite, nausea, digestive spasms, indigestion, dyspepsia and flatulent colic. Traditionally used in Herbal Medicine as an expectorant and anti-tussive to help relieve bronchitis as well as coughs and colds.

Recommended Dose: Adults and children over 6 years. For use against nausea: take a single dose of 2.5 ml (75 drops) in water 30 minutes before travel and every 4 hours as necessary. Other uses: take 0.5-1 ml (15-30 drops) 3 times daily in a little water on an empty stomach.

Medicinal Ingredients (per 1 ml): Ginger rhizome (Zingiber officinale) 200 mg QCE (1:5)

Non-Medicinal Ingredients: Grain alcohol, Distilled water

Cautions and Warnings: Consult a health care practitioner if symptoms worsen or persist.
Estimated delivery: between 1-2 days in Ontario/Quebec and 1-4 days Canada-wide