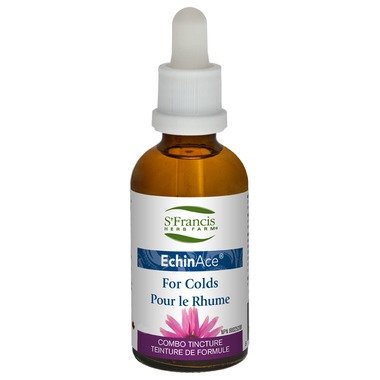 St Francis Echinace 100ml
EchinAce helps relieve the symptoms and shorten the duration of upper respiratory tract infections (e.g. common colds).

Suggested Usage: All doses should be taken 3x daily in a little water on an empty stomach.

Adults and adolescents (15 & over): 2 ml (60 drops)
Adolescents (10-14 years): 1 ml (30 drops)
Children (5-9 years): 0.5 ml (15 drops)
Children (2-4 years): 0.3 ml (10 drops)

Medicinal Ingredients (per 1 ml): Echinacea top and root (Echinacea purpurea) 0.667 ml (1:1, QCE 667 mg); Echinacea root and rhizome (Echinacea angustifolia) 0.333 ml (1:4, QCE 83 mg)

Non-Medicinal Ingredients: Distilled water, Grain alcohol

Cautions and Warnings: Consult a health care practitioner before use: if you have a progressive systemic disease such as tuberculosis, leukosis, collagenosis, multiple sclerosis, AIDS and/or HIV infection; if you have an immune disorder or you are taking immunosuppressants. Consult a health care practitioner if symptoms worsen or persist.

Contraindications: Do not use if you are allergic to plants of the Asteraceae/Compositae/Daisy family.

Known Adverse Reactions: Hypersensitivity/allergy has been known to occur, in which case discontinue use.
Estimated delivery: between 1-2 days in Ontario/Quebec and 1-4 days Canada-wide