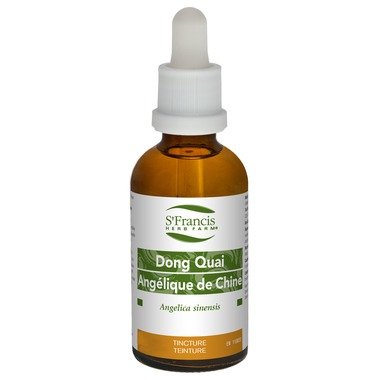 St Francis Dong Quai 100ml
Dong Quai serves to treat a range of gynecological problems, such as the symptoms of menopause, menstrual cramps, irregular menstrual periods, retarded menstrual flow, and the feelings of physical weakness attendant on menstruation.

Suggested Usage: Adults: Take 0.67-1.33 ml (20-40 drops) 3-4x daily in a little water on an empty stomach.

Medicinal Ingredients (per 1 ml): Dong Quai root (Angelica sinensis) 250 mg QCE (1:4)

Non-Medicinal Ingredients: Grain alcohol, Distilled water

Cautions and Warnings: Consult a health care practitioner if symptoms worsen or persist.

Contraindications: Do not use if you are pregnant or breastfeeding or if you are on anticoagulant medications.
Estimated delivery: between 1-2 days in Ontario/Quebec and 1-4 days Canada-wide