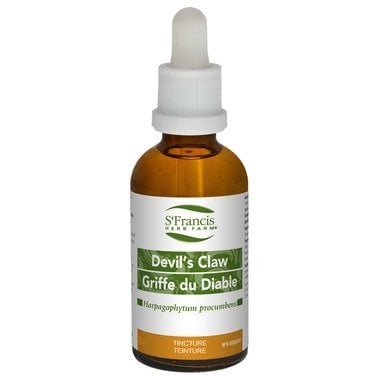 St Francis Devil's Claw 100ml
Devil's Claw is used for arteriosclerosis, osteoarthritis, rheumatoid arthritis, gout, myalgia, fibrositis, lumbago, tendonitis, pleuritic chest pain, gastrointestinal upset or dyspepsia, fever, and migraine headache.

Suggested Usage: Adults: Take 0.8-1.6 ml (25-50 drops) 3x daily in a little water on an empty stomach.

Duration of Use: Must be taken for a minimum of 2-3 months for beneficial effects.

Medicinal Ingredients (per 1 ml): Devil's Claw secondary root tuber (Harpagophytum procumbens) 250 mg QCE (1:4)

Non-Medicinal Ingredients: Distilled water, Grain alcohol

Cautions and Warnings: Consult a health care practitioner before use if you are pregnant or breastfeeding. Consult a health care practitioner if symptoms worsen or persist.
Estimated delivery: between 1-2 days in Ontario/Quebec and 1-4 days Canada-wide