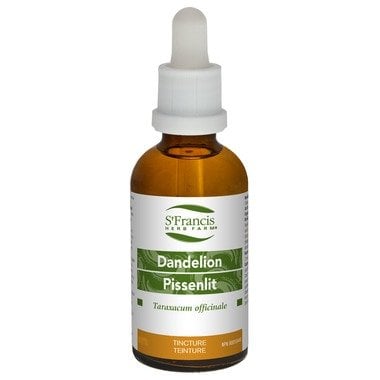 St Francis Dandelion 100ml
Dandelion is used for gallstones, bile stimulation, muscle aches, indigestion, constipation, and flatulence. It is also beneficial in the treatment of diabetes, rheumatic conditions, stiff joints, and eczema.

Suggested Usage: Adults: Take 1.5 ml (45 drops) 3x daily in a little water on an empty stomach.

Medicinal Ingredients (per 1 ml): Dandelion root and leaf (Taraxacum officinale) 1000 mg QCE (1:1)

Non-Medicinal Ingredients: Grain alcohol, Distilled water

Cautions and Warnings: Consult a health care practitioner before use if you are pregnant or breastfeeding. Consult a health care practitioner if symptoms worsen or persist.

Contraindications: Do not use if you have liver or gall bladder disorders and/or bowel obstruction.
Estimated delivery: between 1-2 days in Ontario/Quebec and 1-4 days Canada-wide