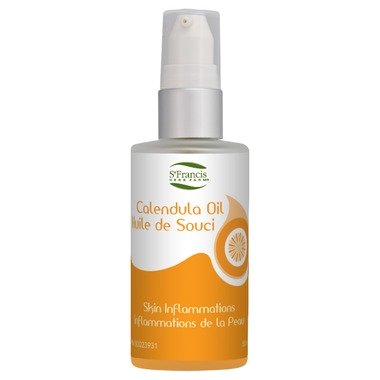 Calendula Oil is used topically to aid wound healing, for minor burns and abrasions, lacerations, swellings, contusions and muscle joint strains and sprains. This Calendula Oil is made from Certified Organically grown flowering tops of calendula infused in extra virgin olive oil. Calendula Oil can be added to a bath or worked into the scalp or a bandage.

Suggested Usage: Adults, adolescents and children ≥ 2yrs: Apply to affected area as needed.

For topical use only. Avoid contact with eyes.

Medicinal Ingredients: Contains 10% Certified Organically Grown Calendula officinalis (2.7 g dried flowers per 30 ml olive oil).

Non-Medicinal Ingredients: Certified Organic Gargano Gold Extra-Virgin Olive Oil, unscented Rosmarinus officinalis (Rosemary) extract

Cautions and Warnings: Consult a health care practitioner if symptoms worsen or persist and before use if you are pregnant.

Contraindications: Do allergic to plants of the Asteraceae/Compositae (daisy) family.

Known Adverse Reactions: Hypersensitivity (e.g. allergic reaction) has been known to occur, in which case discontinue use.
Estimated delivery: between 1-2 days in Ontario/Quebec and 1-4 days Canada-wide