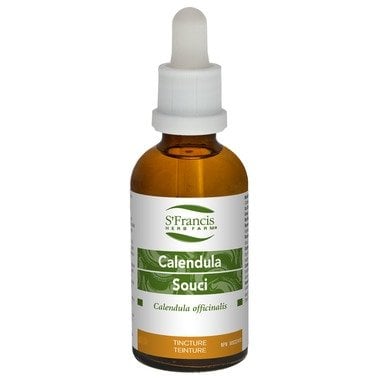 St Francis Calendula 100ml
Calendula flower is used as an antispasmodic, to initiate menstrual periods, to reduce fever, and for inflammation of oral and pharyngeal mucosa. It is traditionally used in Herbal Medicine to help relieve inflammatory conditions of the digestive system.

Suggested Usage: Adults: Take 0.25-0.5 ml (8-16 drops) 3x daily in a little water on an empty stomach.

Consult a health care practitioner for long-term use.

Medicinal Ingredients (per 1 ml): Calendula flower (Calendula officinalis) 250 mg Quantity Crude Equivalent (1:4)

Non-Medicinal Ingredients: Grain alcohol, Distilled water

Cautions: Consult a health care practitioner if symptoms worsen or persist.

Contraindications: Do not use if pregnant or breastfeeding. Do not use if you are allergic to the Asteraceae (daisy) family.

Known Adverse Reactions: Hypersensitivity (e.g. allergy) is known to occur, in which case discontinue use.
Estimated delivery: between 1-2 days in Ontario/Quebec and 1-4 days Canada-wide