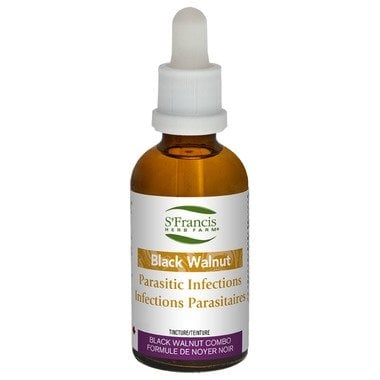 St Francis Black Walnut Combo 100ml
Black Walnut Combo is used for parasitic infections and has anti-fungal properties as well.

Suggested Usage: Adults: 0.7-2.5 ml (20-75 drops) 3-4x daily in a little water between meals.

Medicinal Ingredients: Black Walnut Hulls (Juglans nigra), Paracress (Spilanthes acmella), Usnea (Usnea barbata), Oregon Grape (Berberis aquifolium), Sweet Fennel (Foeniculum vulgare), White Atractylodes (Atractylodes macrocephala), Licorice (Glycyrrhiza spp.)

Non-Medicinal Ingredients: Grain alcohol, Distilled water

Cautions and Warnings: Consult a health care practitioner before use if you have been diagnosed with a medical condition or are taking prescription medication.

Contraindications: Do not take when pregnant or breastfeeding.
Estimated delivery: between 1-2 days in Ontario/Quebec and 1-4 days Canada-wide