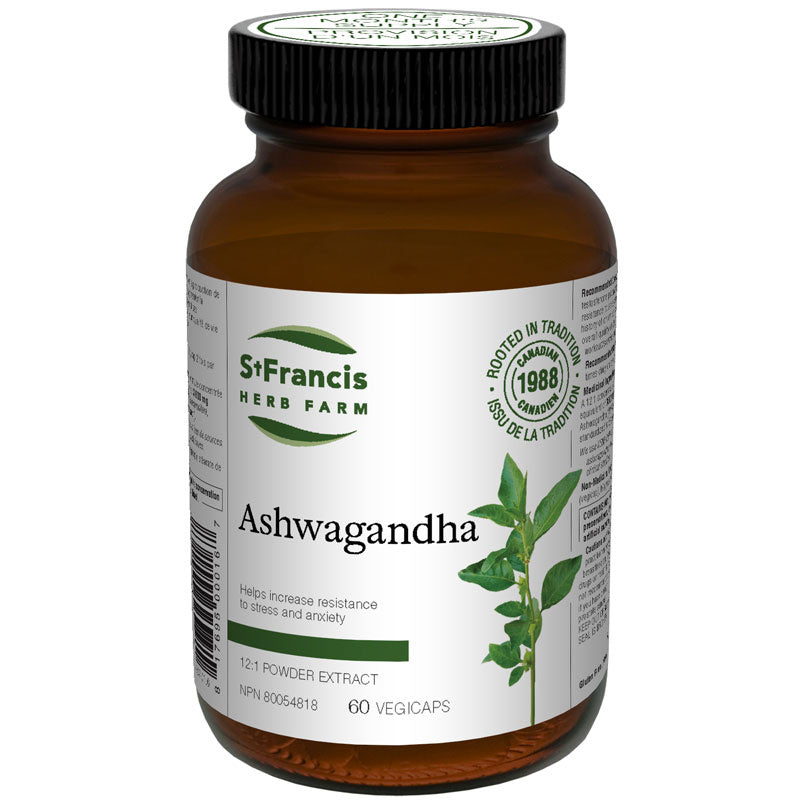 St Francis Ashwagandha 60 caps
Ashwagandha VegiCapsules are prepared from KSM-66® for enhanced potency and absorption in the convenience of a vegetarian capsule. KSM-66® is a concentrated, full-spectrum proprietary Certified Organic ashwagandha root that is not only clean and sustainably sourced, but also powerfully effective for dealing with stress and anxiety, as demonstrated by numerous clinical studies.

Ours is a highly potent 12:1 concentration, with each 300 mg vegicapsule containing the equivalent of 3600 mg (300 mg x12) of dried Certified Organic ashwagandha standardized to contain at minimum 5% withanolides. This makes it a mighty and effective full spectrum extract that preserves the balance of the various constituents in the original herb together with all its critical tonic and adaptogenic qualities.

• Reduces anxiety and stress, improving stamina and brain function
• Provides a calming or relaxing effect
• Strengthens the body's vitality and increases its resilience in the face of infection
• Anti-inflammatory
• Aphrodisiac
• One bottle = one month's supply
Who it's for:
• Individuals requiring a tonic for anxiety, nervousness, or insomnia
• Those looking for increased strength, endurance, and memory improvement
• Men and women seeking to improve sexual performance
Dosage: Adults: Take 1 vegicap 2 times daily on an empty stomach. Cautions and Warnings: Consult a health care practitioner before use if you are pregnant or breastfeeding. Consumption with alcohol, other drugs or health products with sedative properties is not recommended. Consult a health care practitioner if you have benign prostate hypertrophy.
Medicinal Ingredients:
Certified Organic Ashwagandha (Withania somnifera, root)
Non-Medicinal Ingredients:
Hypromellose (vegicap), Magnesium stearate, Milk products
Estimated delivery: between 1-2 days in Ontario/Quebec and 1-4 days Canada-wide