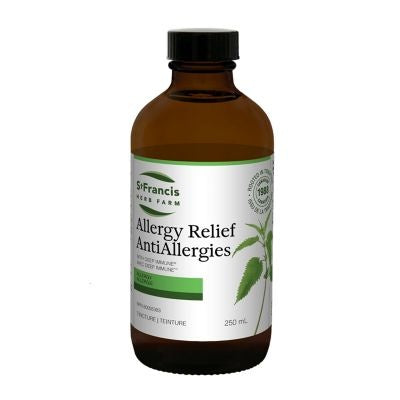 St Francis Allergy Relief 250ml
Non-drowsy natural relief for itchy eyes, sneezing, congestion and other symptoms of hay fever or allergy; A formula that includes astragalus, reishi, and schisandra, herbs found in our Deep Immune Original Formula; Contains additional herbs specific to allergy relief such as nettle and southern prickly ash; With potent, effective homeopathic ingredients like Galphimia glauca and Histaminum.
Turn to Allergy Relief if you're looking to alleviate the symptoms of allergy or hay fever. Also, consider taking our Clear Sinus gelcaps or Sinafect in tandem for acute sinus conditions.
Medicinal Ingredients:
Nettle (Urtica dioica, spring tops) 0.30 ml (1:4, QCE 75mg dry) OR 1:1 (QCE 300mg fresh)
Astragalus (Astragalus membranaceus, root) 0.25 ml (1:4, QCE 62.5 mg)
Reishi (Ganoderma lucidum, thallus) 0.14 ml (1:4, QCE 35 mg)
Schisandra (Schisandra chinensis, fruit) 0.14 ml (1:4, QCE 35 mg)
Southern Prickly Ash (Zanthoxylum clava-herculis, bark) 0.07 ml (1:4, QCE 17.5mg)
Homeopathic Ingredients (0.10 ml):
Allium cepa 6X (potency)
Sabadilla 6X
Solidago virgaurea 6X
Histaminum (Histamine dihydrochloride) 7CH
Lac defloratum (Skimmed cow's milk) 8CH
Galphimia glauca 12CH
Non-Medicinal Ingredients: Distilled water, Alcohol
Adults Dose: Take 2.5 ml (75 drops) 3 times daily, in a little water, on an empty stomach.
Estimated delivery: between 1-2 days in Ontario/Quebec and 1-4 days Canada-wide