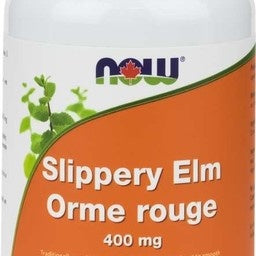 Slippery Elm 400mg 100 caps
Traditionally used in Herbal Medicine as a demulcent to smooth irritation of the stomach and help relieve diarrhea or gastritis
Whole Herb
Vegetarian / Vegan
Slippery Elm, also known as Red Elm, Moose Elm or Indian Elm, is a small North American tree that has been traditionally used by herbalists for over 100 years. It was reportedly used by native North Americans and early settlers as a survival food. Its bark is known for its mucilage constituents, which can help to coat and soothe the tissues of the GI tract.
Adult Dosage: Take 2 capsules 3 times daily with water.
Each capsule contains:
Slippery Elm (Ulmus fulva) Bark 400 mg
Non-Medicinal Ingredients: Veg Capsule (hypromellose, water), Cellulose, Magnesium Stearate (vegetable source).
Estimated delivery: between 1-2 days in Ontario/Quebec and 1-4 days Canada-wide