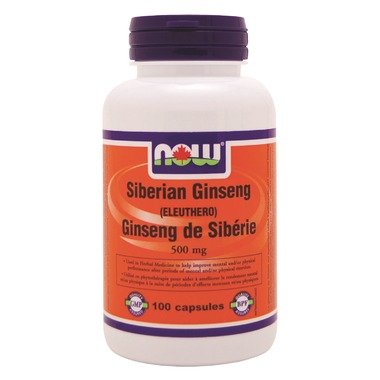 NOW Siberian Ginseng 500mg 100caps
Formerly known as Siberian ginseng, Eleuthero senticosus is a powerful adaptogenic herb that has been shown in studies to help protect against the effects of physical and mental stress. It has been a staple in eastern medicine for over 2,000 years, enjoying a history of both safety and effectiveness. The eleuthero roots used in NOW Eleuthero are carefully selected based on their high eleutheroside concentrations, the plant's active therapeutic compounds.
Suggested Use: As an herbal dietary supplement, take 2 capsules 1 to 2 times daily.

Medicinal Ingredients:
Eleuthero (Eleutherococcus senticosus) (Root) ... 500 mg
Other Ingredients: Gelatin (capsule) and Magnesium Stearate.

Free of: sugar, salt, starch, yeast, wheat, gluten, corn, soy, milk, egg or preservatives.
Estimated delivery: between 1-2 days in Ontario/Quebec and 1-4 days Canada-wide