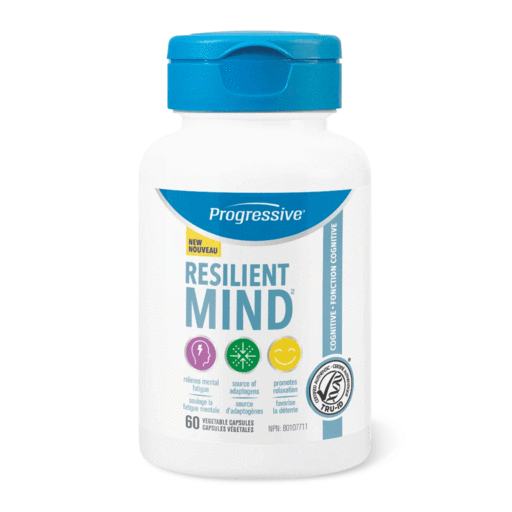 This product has an expiration date of 02/2023. This item is final sale and non-exchangeable.


BENEFITS & FEATURES
Progressive Resilient Mind is a Stress Solution Product. Formulated with a lend of Ashwagandha, Rhodiola the Progressive Resilient Mind helps to relieve mental fatigue while promoting relaxation. It is also TRU-ID® certified to guarantee ingredient authenticity.
Helps to temporarily promote relaxation
Used in Herbal Medicine as an adaptogen to help increase energy and resistance to stress
Used in Herbal Medicine to help support cognitive function
Used in Herbal Medicine to help improve mental and/or physical performance after periods of mental and/or physical exertion
TRU-ID® Certified for ingredient authenticity
Non-GMO
INGREDIENTS
Each capsule contains:
Ashwagandha Extract 10:1 (Withania somnifera, Root)

Equivalent to 1,250 mg raw herb

125 mg
Schisandra (Schisandra chinensis, Fruit)
50 mg

Astragalus Extract 8 : 1 (Astragalus membranaceus, Root)

Equivalent to 500 mg raw herb

62.5 mg

Siberian ginseng Extract 10 : 1 (Eleutherococcus senticosus, Root)

Equivalent to 500 mg raw herb

50 mg

Rhodiola Extract (Rhodiola rosea, Root),

2% Rosavins, 2% Salidroside

75 mg
Choline (Choline bitartrate)
15 mg
GABA (Glutamic acid)
100 mg
Non-Medicinal Ingredients
Vegetable Capsule (Cellulose), Dicalcium Phosphate, Microcrystalline Cellulose, Vegetable Magnesium Stearate, Silicon Dioxide.
Suggested Dose (Adults)
2 capsules daily.
Cautions
Do not use this product if you are pregnant, have high blood pressure, bipolar disorder or bipolar spectrum disorder. Consult a health care practitioner prior to use if you are breastfeeding, have an autoimmune disorder, acute infection, taking anti-depressant medication, hormone replacement therapy (HRT) or birth control pills. Consult a health care practitioner if symptoms persist or worsen. Stop use if you experience irritability or insomnia. Exercise caution if operating heavy machinery, driving a motor vehicle or involved in activities requiring mental alertness. Some people may experience drowsiness. Avoid taking with alcohol or products that cause drowsiness.
Estimated delivery: between 1-2 days in Ontario/Quebec and 1-4 days Canada-wide