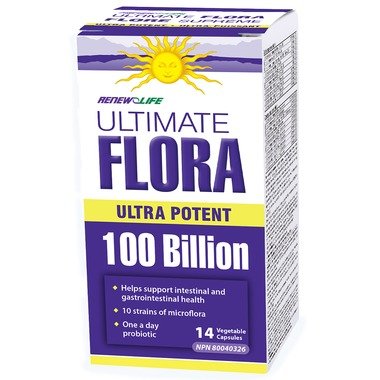 Renew Life Ultimate Care Probiotic 100 Billion 14 v capsules
Ultimate Flora Ultra Potent is a 100 billion culture, 10 strain probiotic formula designed for those with severe digestive issues, those who have completed multiple rounds of antibiotics or for those who want to have the strongest probiotic available.

Adult Dosage: 1 capsule per day

Each capsule contains:
Lactobacillus plantarum (HA-119) 21.25 Billion
Bifidobacterium breve (HA-129) 20 Billion
Bifidobacterium longum (HA-135) 20 Billion
Lactobacillus casei (HA-108) 15.5 Billion
Lactobacillus acidophilus (HA-122) 12 Billion
Bifidobacterium bifidum (HA-132) 10 Billion
Lactobacillus rhamnosus (HA -111) 500 Million
Lactobacillus fermentum (HA-179) 250 Million
Lactobacillus rhamnosus (HA -114) 250 Million
Lactobacillus salivarius (HA-118) 250 Million

Non-medicinal Ingredients: Vegetable capsule (Hypromellose, water), aqueous enteric coating, FOS (fructooligosaccharides)

This product has come into contact with milk and soy from fermentation ingredients. Do not use this product if you have a milk or soy allergy. Keep out of reach of children. Requires refrigeration. Do not expose to heat. Potency guaranteed at expiry.

Natural, Gluten Free, Sugar Free, Peanut Free Product, Tree Nut Free Product

Please be advised that Well.ca follows manufacturer guidelines for storing & shipping probiotics. This product will be shipped with an ice-pack to maintain product efficacy.
Estimated delivery: between 1-2 days in Ontario/Quebec and 1-4 days Canada-wide