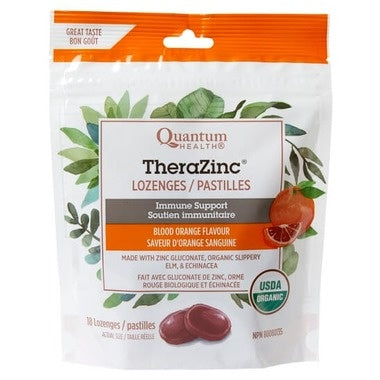 Quantum Health TheraZinc Lozenges- Blood Orange
The Quantum Organic TheraZinc Lozenges are made of the highest quality ingredients, including organic marshmallow root, organic slippery elm, echinacea, and zinc gluconate. Perfect to support your immune system when your body needs it most.

How to Use (Adults): Completely dissolve one lozenge in mouth. Do not chew. Can be repeated every 2 to 4 hours. Take a few hours before or after taking other medications. Take with food. Do not exceed 7 lozenges a day.

Medicinal Ingredients (per lozenge): Zinc gluconate 7mg, Organic Marshmallow 50mg, Organic Slippery Elm 24mg, Organic Echinacea 3mg.

Non-medical Ingredients: Organic Sugarcane Juice, Organic Brown Rice Syrup, Natural Blood Orange Flavour, Organic Fruit and Vegetable Blend (radish concentrate, apple concentrate, blackcurrant concentrate), Organic Honey. May contain peanuts, tree nuts, milk, eggs.
Estimated delivery: between 1-2 days in Ontario/Quebec and 1-4 days Canada-wide