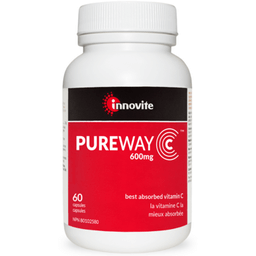 Pureway Vitamin C 600mg 60 caps
A source of antioxidants that helps protect cells against free radicals and supports the maintenance of good health.
Features:
Helps support a healthy immune system
Helps in the development and maintenance of healthy bones, cartilage, teeth, gums, and connective tissue formation.
Helps wound healing and prevents vitamin C deficiency.
Recommended Dosage: (Adults): Take 1 to 3 capsules daily or as directed by a healthcare provider.
Ingredients:Each capsule contains:
PureWay-C™ vitamin C (ascorbic acid)* 600mg
Citrus bioflavonoids (fruit, Citrus sinensis) 25mg *PureWay-CTM and PureWay-CTM logo are trademarks of One Innovation Labs, LLC. in the U.S. and/or other countries, Hypromellose, rice bran oil, fatty acids, microcrystalline cellulose, magnesium stearate.
Estimated delivery: between 1-2 days in Ontario/Quebec and 1-4 days Canada-wide