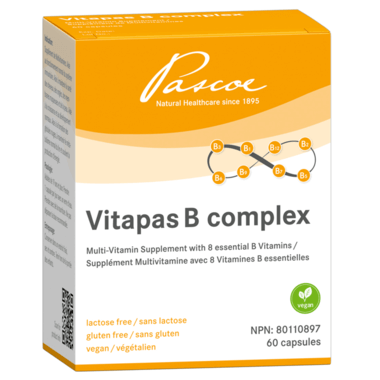 Pascoe Vitapas B complex 60 caps
This product has an expiration date of 07/2023. This item is final sale and non-exchangeable.
Vitapas B complex, 1 tiny vegan capsule a day gets you all 8 essential B vitamins in one go.

Features:
With 8 essential B Vitamins
Promotes a healthy immune system
Helps to maintain healthy hair, skin and nails
Helps to support the formation of red blood cells
Maintains the iron metabolism
Supports energy production
Recommended Dosage: (Adults over 19 years) 1 capsule a day. Take with food and glass of water.

Medicinal Ingredients: Vitamin B1 3.3 mg, Vitamin B2 4.2mg, Vitamin B3 58mg, Vitamin B5 18mg, Vitamin B6 4.2mg, Biotin 100mcg, Folate 600mcg, Vitamin B12 (Methylcobalamin) 7.5mcg.

Non-Medicinal Ingredients: Hypromellose, Calcium carbonate.
Estimated delivery: between 1-2 days in Ontario/Quebec and 1-4 days Canada-wide