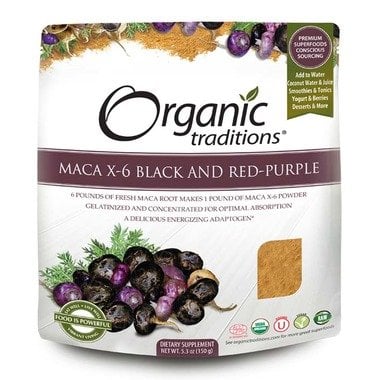 A source of Fibre and Potassium and a host of Antioxidants

Commonly known as "The Peruvian Ginseng," Maca is a root indigenous to the Andes of Peru. Maca was domesticated by the Incas and has since been used by indigenous people as part of a daily diet to promote optimal well being. Maca contains Calcium, Magnesium, Phosphorus, Iron, other essential vitamins and minerals as well as a host of antioxidants. There are three varieties of Maca: Yellow, Black and Red-Purple Roots. Unlike Yellow Maca, Black & Red-Purple Maca Roots are the most elite of the varieties in that potent phytochemicals are found in the black and red-purple antioxidant rich pigments. Maca is considered to be one of the Amazon's most important adaptogenic superfoods due to its extraordinary nutritional profile and unique array of phytochemicals.

Benefits:
Gluten-Free, Kosher, Vegan, Non-GMO, Raw
Use as a healthy sweetener
A source of Fibre and Potassium and a host of Antioxidants
Ready to use; Incorporates easily into smoothies and all other recipes
A delicious maple-syrup citrus taste
No fillers, flavours, binders, sweeteners or excipients added
Directions:
5g per serving

Ingredients:
Certified Organic Black, Red-Purple and Yellow Maca

Caution:
Produced in a facility that packages tree nuts.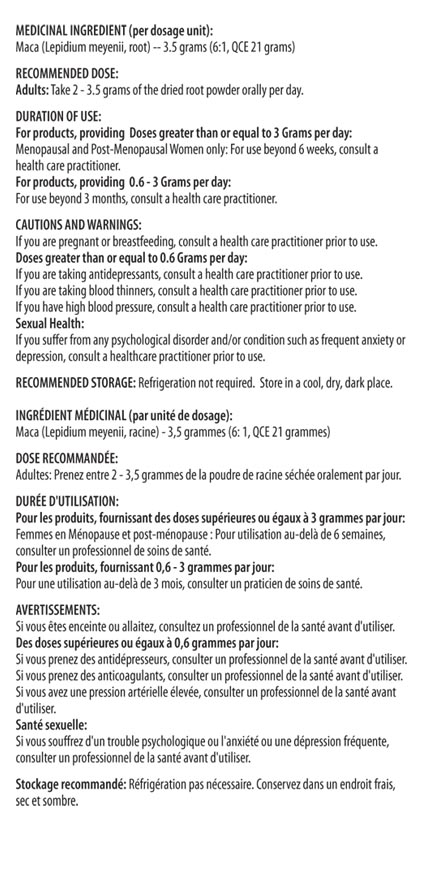 Estimated delivery: between 1-2 days in Ontario/Quebec and 1-4 days Canada-wide