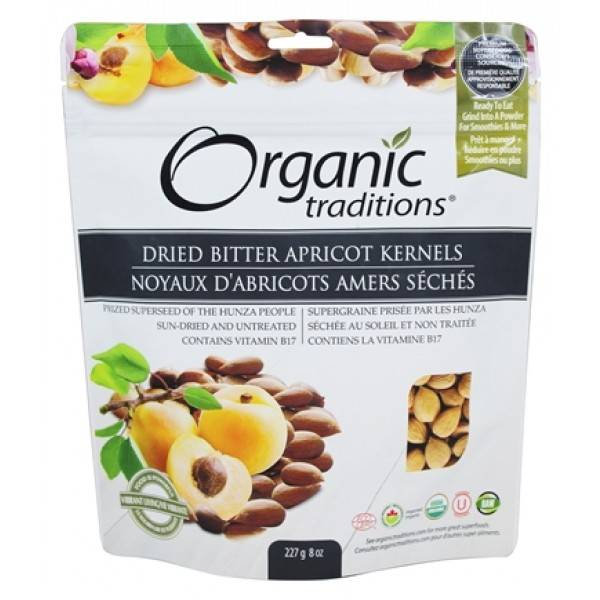 Bitter Apricot Kernels 227g
Bitter Apricot Kernels have been used in Ancient Asian Medicine for centuries. These kernels were prized by the legendary Hunza people who were known for their health and longevity. The bitter taste is due to a compound in the kernels known as amygdalin or Vitamin B17. Organic Traditions Bitter Apricot Kernels are manually harvested and sun-dried. There are no fillers, flavors, additives, preservatives, dyes, artificial colors, sulfites, oils, coatings, sugars or sweeteners added.

Caution: Do not consume more than 2-3 kernels per day. Keep out of the reach of children. Pregnant and nursing women should not consume bitter apricot kernels. Eating too many bitter apricot kernels may cause acute cyanide poisoning.

Allergen Information: Produced in a facility that packages tree nuts (Almonds, Hazelnuts and Cashews). The facility is dairy-free, gluten-free, soy-free and peanut free.
Storage Information: Refrigeration not required. Store in a cool, dry, dark place.
Ingredients:
Certified Organic Bitter Apricot Kernels (Semen armeniacae amarum).


Key Features and Benefits:

• Certified Organic, Gluten-Free, Kosher, Vegan, Non-GMO, Raw
• A source of Amygdalin, Laetrile, Vitamin B17
• Manually harvested, sun-dried and untreated
• No added flavors, fillers, preservatives, additives, sweeteners, oils, or coatings
Estimated delivery: between 1-2 days in Ontario/Quebec and 1-4 days Canada-wide