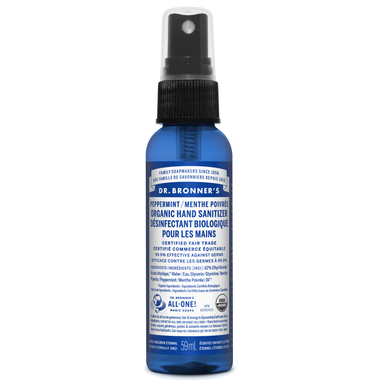 Dr Bronners Organic Hand Sanitizer Peppermint 59ml
The pure peppermint aroma will stimulate your sense and focus your mind! Just as effective as conventional sanitizers without the nasty chemicals! Only fair trade organic ethyl alcohol, organic peppermint oil, organic glycerin and water. Fair trade organic peppermint oil is sourced from Pavitramenthe in India—where Dr. Bronner's has worked with farmers to implement climate-friendly regenerative organic practices to build healthy soils, reduce erosion and sequester atmospheric carbon!
Features
:
Certified Organic to USDA
Fair Trade
Not Animal Tested
Certified Vegan
Directions of use
: Spray on palm, rub hands together.
Ingredients
: 62% Organic Fair Trade Ethyl Alcohol,* Water, Organic Glycerin, Organic Fair Trade Peppermint Oil* *CERTIFIED FAIR TRADE INGREDIENTS
Estimated delivery: between 1-2 days in Ontario/Quebec and 1-4 days Canada-wide