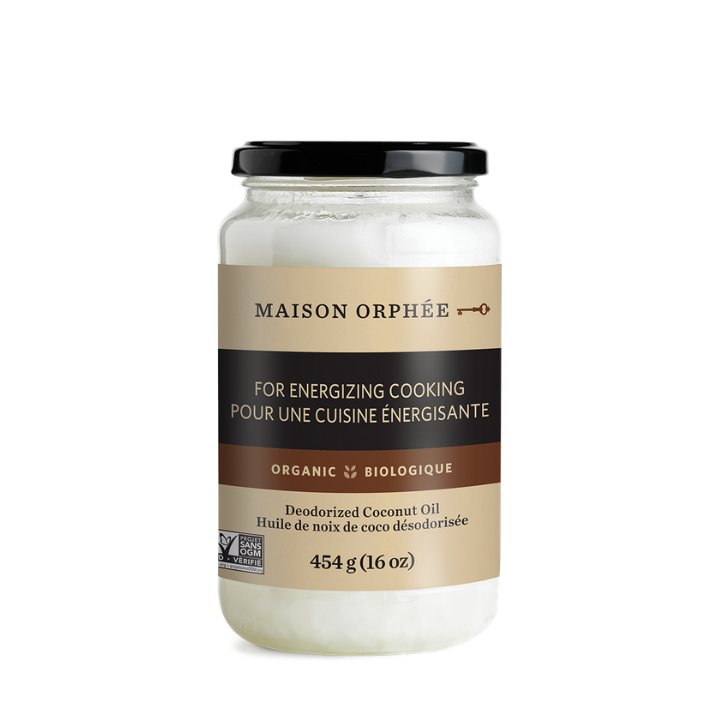 Organic Coconut Oil Deodorized 454g

IDEAL FOR ENERGIZING COOKING
Our Deodorized Coconut Oil has a light texture and is easy to spread. Its neutral taste and aroma makes it incredibly versatile. It is the perfect oil to bake without changing the taste of your preparations. It stands the heat when used for sautéing or frying. Once pressed, the oil is filtered and deodorized by a vacuum process where steam is injected to remove the taste and odour.
Without GMOs, our coconut oil, like any good vegetable oil, does not contain any cholesterol. It is an important source of lauric acid and has antiviral and antibacterial properties.
Did you know? Coconut oil liquefies when the temperature is greater than 25 °c.
Use: Replace butter or margarine in a recipe without getting the taste of coconut, cooking food in frying pan and frying.
Smoke Point : 374 ° F/190 ° C
Extraction : First Pressed - Deodorized
Origin: Philippines
Ingredients: Coconut.
Certifications: GMO-free - Organic Canada
Naturally Gluten Free
Estimated delivery: between 1-2 days in Ontario/Quebec and 1-4 days Canada-wide