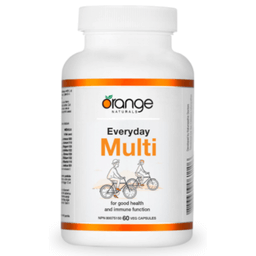 Orange Naturals Everyday Multi 60 caps
Orange Naturals Adult Multi is a high-potency, complete multi-vitamin and multi-mineral formula designed for optimal daily nutritional support for both men and women. This iron-free multivitamin delivers a full complex of B vitamins in high potency to support daily metabolic processes. It is enhanced with vitamin D and K to support bone health and lutein to support eye health along with antioxidants and immunity support from vitamins A,C, E and zinc. This multi is iron-free as iron is not a mineral that is required by everyone and an excess intake of iron when it is not needed can, in fact, be harmful. Each vegetable capsule provides all the vitamins and trace minerals in its preferred and active form for rapid absorption. All ingredients in this multi are at therapeutic levels - none are included 'just for show'. Orange Naturals Adult Multivitamin without Iron is your choice for a daily multi-vitamin!
Recommended Use: A factor in the maintenance of good health.
Directions: Adults: take 2 capsules per day with food. Take a few hours before or after taking other medications.
Ingredients: (per capsule)
Vitamin A (Acetate) 2,500IU
Beta-carotene 1,000IU
Vitamin C (Ascorbic acid) 100mg
Vitamin D3 (Cholecalciferol) 500IU
Vitamin E (D-alpha) 50IU
Vitamin K1 (Phytonadione) 60mcg
Vitamin B1 (Thiamine hydrochloride) 25mg
Vitamin B2 (Riboflavin) 25mg
Vitamin B3 (Niacinamide) 25mg
Vitamin B5 (D-panthothenic acid) 25mg
Vitamin B6 (Pyridoxine hydrochloride) 25mg
Biotin 50mcg
Folic Acid 400mcg
Vitamin B12 (Methylcobalamin) 250mcg
Choline (Bitartrate) 10mg
Inositol 10mg
Lutein (Marigold extract) 3mg
Calcium (Citrate) 40mg
Chromium (Polynicotinate) 50mcg
Copper (Citrate) 500mcg
Iodine (Laminaria digitata/Ascophyllum nodosum) 100mcg
Magnesium (Bisglycinate) 10mg
Manganese (Citrate) 500mcg
Molybdenum (Sodium molybdate) 15mcg
Potassium (Citrate) 10mg
Selenium (Selenium yeast) 50mcg
Vanadium (Vanadyl sulfate) 15mcg
Zinc (Citrate) 5mg
Non-Medicinal Ingredients:
Vegetable-grade magnesium stearate
Vegetable capsule
Cautions and Warnings: Consult a healthcare practitioner prior to use if you are pregnant or breastfeeding, or if you have a medical condition.
Potential or Known Drug Interactions: Consult a healthcare practitioner prior to use if you are taking blood thinners.
Estimated delivery: between 1-2 days in Ontario/Quebec and 1-4 days Canada-wide