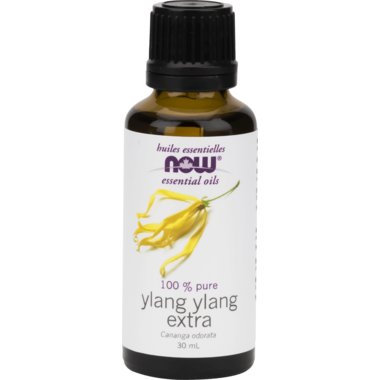 NOW Ylang-Ylang Extra Oil 30mL
NOW Essential Oils Ylang Ylang Extra Oil is 100% pure, natural, and steam-distilled from mature Cananga odorate flowers. In the Philippines, Ylang Ylang means "flower of flowers". As one of today's most romantic fragrances, its flowers yield an exotic, aphrodisiac aroma that's cherished by many aromatherapists and perfume makers.

Features:
100% Pure
Aroma: Pleasant, floral.
Attributes: Soothing, comforting, romantic.
Mixes Well With: Citrus oils, clove oil, jasmine, patchouli oil, rose oil.
Extraction Method: Steam Distilled from plant's flowering tops.
Purity Tested/Quality Assured
Directions: For fragrance purposes. For all other uses, carefully dilute with a carrier oil such as jojoba, grapeseed, olive, or almond oil prior to use. Please consult an essential oil book or other professional reference source for suggested dilution ratios.
Estimated delivery: between 1-2 days in Ontario/Quebec and 1-4 days Canada-wide