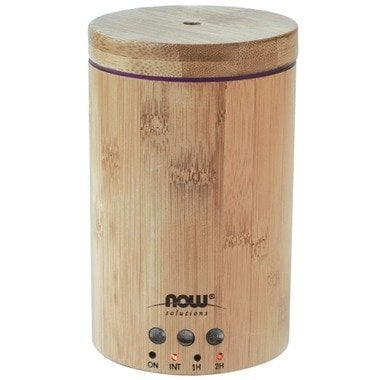 NOW Real Bamboo Ultrasonic EO Diffuser
NOW® Solutions Real Bamboo Ultrasonic Oil Diffuser unites aromatherapy with modern scientific innovation to create an essential oil diffuser that's the perfect complement to your home or office.

This attractive diffuser is BPA-free and utilizes high-frequency ultrasonic electrical vibrations to create an ultra-fine mist. This diffusion method doesn't utilize heat, which maintains essential oil integrity and holistic properties.

Features:

Extremely Quiet
Easy to Clean
Just Add Tap Water and Essential Oils
Cool Steam
No Heat Involved/No Risk of Burns
2 Timer Settings; 1 Hr / 2 Hr
Runs up to 14 Hrs Intermittent / 7 Hrs Continuous
Automatically Shuts Off
Coverage: 400 square feet
Directions: Add 150 ml (5 fl. oz.) of water and 5 drops of your favorite essential oils and enjoy. Choose your desired time; 1 Hr or 2 Hr then your mode; intermittent or continuous. This diffuser will diffuse up to seven hours on continuous or fourteen on intermittent, then shuts off automatically.
Estimated delivery: between 1-2 days in Ontario/Quebec and 1-4 days Canada-wide