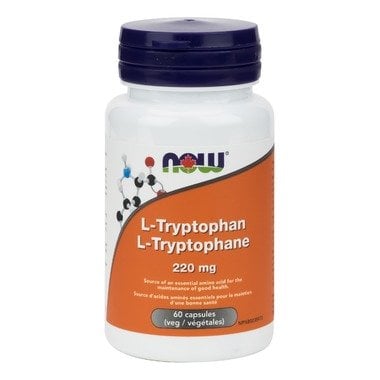 NOW L-Tryptophan 220mg 60Vcap
Source of an essential amino acid for the maintenance of good health.

L-Tryptophan is a large neutral amino acid essential to human metabolism because it is the metabolic precursor of serotonin (a neurotransmitter), melatonin (a neurohormone), and niacin (vitamin B3) which assist in the regulation of sleep, positive mood and immune function. L-Tryptophan is not synthesized by the body and must be obtained from the diet. As a component of dietary protein, tryptophan is particularly plentiful in chocolate, oats, bananas, dried dates, milk, cottage cheese, meat, fish, turkey, and peanuts.

Ideal for those wishing to boost serotonin levels.

Ingredients (each capsule contains):
L-Tryptophan……………………………………………………220 mg

Non-Medicinal Ingredients: Veg Capsule (hypromellose, water), Cellulose,
Stearic Acid.

Adult Dosage: Take 1 capsule daily with meals. Consult a health care practitioner prior to use if you are pregnant or breastfeeding. Tryptophan supplementation should be avoided in depression with reversed diurnal variation. Patients with liver cirrhosis should avoid tryptophan supplementation.
Estimated delivery: between 1-2 days in Ontario/Quebec and 1-4 days Canada-wide