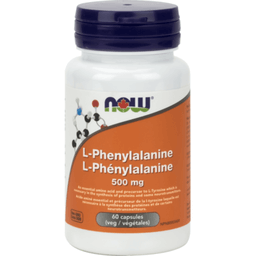 NOW L-Phenylalanine 500mg 60vcap
NOW Foods L-Phenylalanine is an essential amino acid that is necessary for the synthesis of proteins. Because L-Phenylalanine can be readily converted into the amino acid tyrosine, which forms part of the structure of the neurotransmittters dopamine and norepinephrine, it is important for the maintenance of a healthy nervous system.

Features:
An essential amino acid and precursor to L-Tyrosine which is necessary in the synthesis of proteins and some neurotransmitters
Vegetarian / Vegan
Free-Form
Egg free, soy free
Directions: Adult Dosage: Take 1 capsule, 3 times daily between meal

Ingredients: Each capsule contains:
Non-Medicinal Ingredients: Veg Capsule (hypromellose, water).

Caution: Do not use this product if you have depression, Parkinson's disease, Phenylketonuria or Schizophrenia unless under the supervision of a health care practitioner. Do not use if you have hypertension, are taking a Monoamine Oxidase Inhibitor (MAOI) drug, are pregnant or breastfeeding.
Estimated delivery: between 1-2 days in Ontario/Quebec and 1-4 days Canada-wide