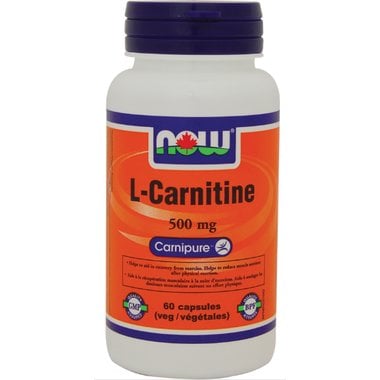 NOW L-Carnitine 500mg 60vcap
L-Carnitine is a non-essential amino acid that helps to maintain overall good health by facilitating the transfer of fatty acid groups into the mitochondrial membrane for cellular energy production. It naturally occurs in red meat and other animal source foods, but we recommend supplementation to obtain optimal levels of this excellent amino acid.

Features:
Helps to aid in recovery from exercise
Helps to reduce muscle soreness after physical exertion
Vegetarian/Vegan
Directions: Take two capsules twice daily with meals. Consult a health care practitioner for use beyond 3 weeks.
Ingredients (each capsule contains):
Carnitine …………………………………………….. 500 mg
(From L-Carnitine Tartrate) (Carnipure™)
Non-Medicinal Ingredients: Veg Capsule (hypromellose, water), Cellulose, Magnesium Stearate, Silica.
Estimated delivery: between 1-2 days in Ontario/Quebec and 1-4 days Canada-wide