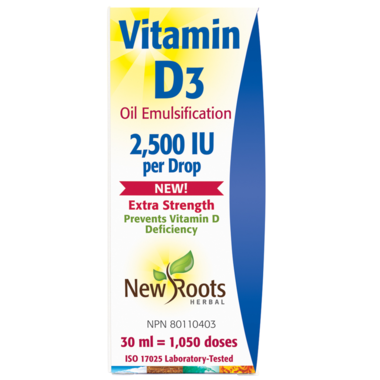 New Roots Vitamin D3 2500 Per Drop - 30ml
Vitamin D3 is the biologically active form of vitamin D. When combined with sufficient calcium, a healthy diet, and an active lifestyle, it can help reduce the incidence of osteoporosis.

Recommended Dosage: (Adults) Take 1 drop daily or as directed by your health-care practitioner. To be taken with an adequate intake of calcium.
Duration of use: Consult a health-care practitioner for use beyond 6 months.

Medicinal Ingredients: Each ¼ teaspoon contains:
Vitamin D3 (cholecalciferol) 62,5 mcg (2,500 IU)

Non-Medicinal Ingredients: Medium-chain triglycerides (MCT)

Contains no: Gluten, soy, wheat, corn, eggs, dairy, yeast, citrus, preservatives, artificial flavour or colour, starch, or sugar.
Estimated delivery: between 1-2 days in Ontario/Quebec and 1-4 days Canada-wide