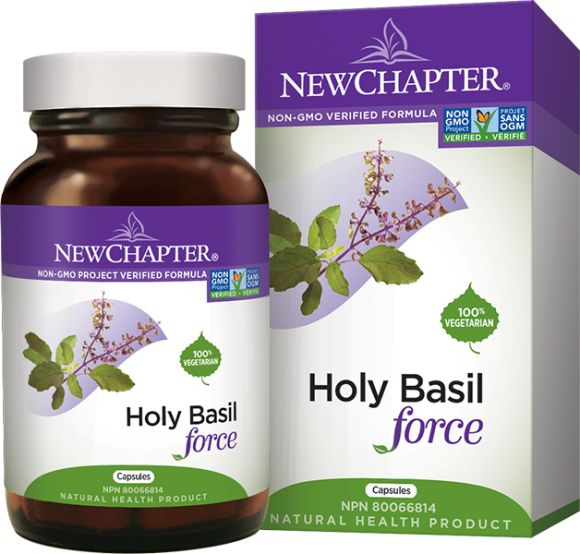 New Chapter Holy Basil 30caps
Considered sacred by Hindus, Tulsi is "The Incomparable One" in Sanskrit. It is also renowned for its important role in traditional herbal systems for thousands of years. Tulsi is thought to open the heart and mind and bestow love, compassion, faith, and devotion. The oil of Tulsi is thought to tone up the Chakras or energy points.
Adults­—Take 1 capsule daily. Take a few hours before or after taking other medications
| Amount per 1 Capsule | | |
| --- | --- | --- |
| Holy Basil (Ocimum sanctum) (leaf) hydroethanolic extract 20:1 QCE 5360 mg | 268 | mg |
| Holy Basil (Ocimum sanctum) (leaf) supercritical extract 6.5:1 QCE 1742 mg | 268 | mg |
QCE = Quantity Crude Equivalent
Non-medicinal ingredients: Organic olive oil, extra-virgin olive oil, hypromellose, organic yellow beeswax, maltodextrin and candelilla wax.
Gluten free.
Cautions and warnings: If you are taking any heart or blood pressure medication or if you have a heart condition or diabetes, consult a healthcare practitioner prior to use.
Contraindications: If you are breastfeeding, pregnant or if you are attempting to conceive, do not use this product.
Known adverse reactions: Discontinue use if you experience gastrointestinal upset.
Estimated delivery: between 1-2 days in Ontario/Quebec and 1-4 days Canada-wide