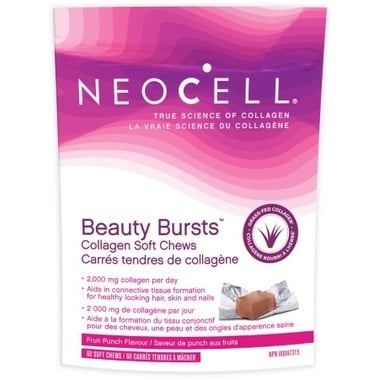 NeoCell Beauty Bursts Collagen Soft Chews Fruit Punch Flavour
Collagen makes up almost a third of all protein in the human body and is found in skin, hair, nails, muscles, tendons, ligaments and bones. Collagen is the primary structural component for all tissue in the body, providing the strength and resilience associated with youth, beauty and wellness. Although abundant in our youth, the bodys natural collagen production typically slows with age. NeoCell Beauty Burstsҙ contain hydrolyzed collagen types 1&3, the types that make up 90% of the bodys total collagen supply.
Features:
Collagen Soft Chews 2,000 mg collagen per day
Aids in connective tissue formation for healthy looking hair, skin and nails
Gluten-Free & Grass-Fed
Directions: Adults: Take 2 chews daily
Active Ingredients (each chew contains):
Hydrolyzed Collagen Type 1&3 Protein (*Bovine-skin/hides) 1,000 mg
Vitamin C (as ascorbic acid) 10 mg
*Predominantly pasture raised and grain finished beef.
Non-Active Ingredients: Brown rice syrup, evaporated cane juice, fruit punch flavor, sunflower lecithin, sunflower oil, citric acid, DL-malic acid, black carrot juice, hibiscus extract, glycerin, citrus bioflavonoids, hyaluronic acid Does not contain: Soy, wheat, lactose, yeast, or artificial flavours. Gluten Free.
Caution: Allergen Warning: May contain sulfite residues. Non-GMO. This product does not contain genetically modified material. Contra-Indications: Do not use as a source of protein. Known Adverse Reactions: May cause mild gastrointestinal disturbances. Warning: Keep out of reach of children. If you are pregnant or breastfeeding, consult a health care practitioner prior to use. If you have liver or kidney disease or if you have been instructed to follow a low protein diet, consult a health care practitioner prior to use. Storage Conditions: Protect from heat and moisture
Estimated delivery: between 1-2 days in Ontario/Quebec and 1-4 days Canada-wide