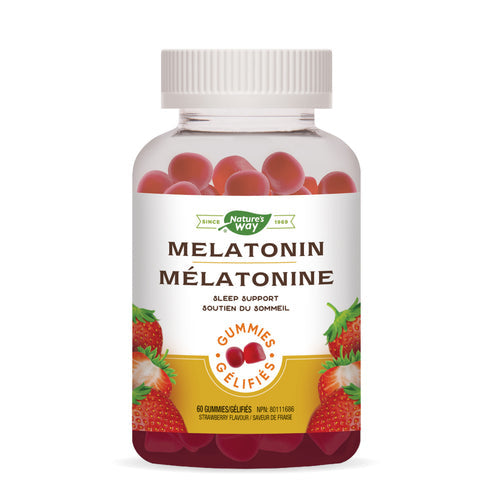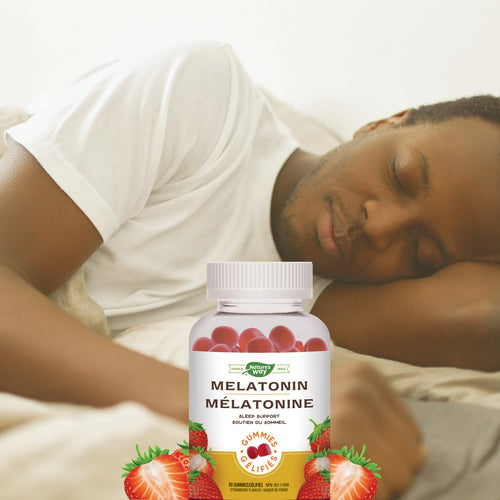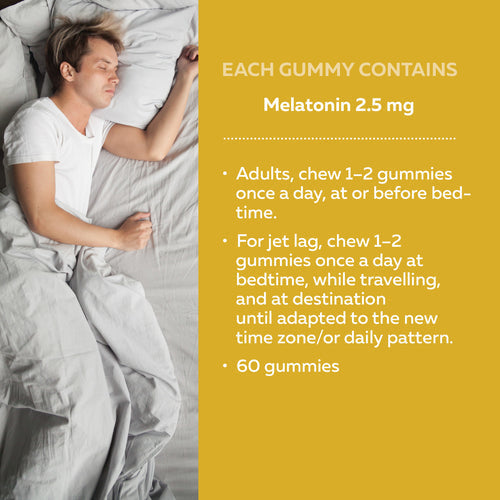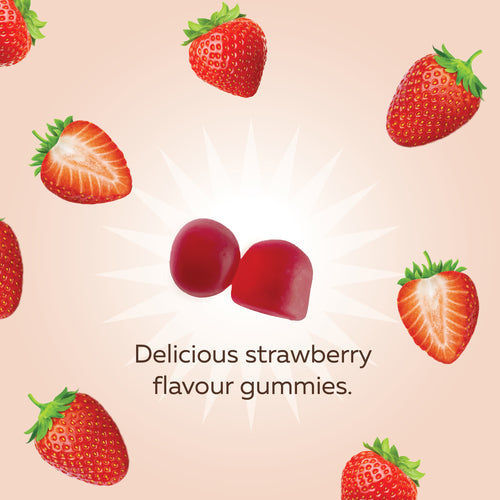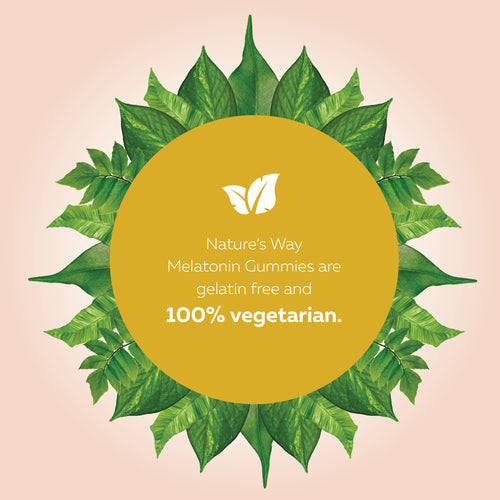 Nature's Way Melatonin Gummies help increase the total sleep time in people suffering from sleep restriction or altered sleep schedule. These delicious strawberry flavoured gummies also help re-set the body's sleep-wake cycle, and are 100% vegetarian.
Adults: chew 1–2 gummies once a day, at or before bedtime. For jet lag: chew 1–2 gummies once a day at bedtime, while travelling, and at destination until adapted to the new time zone/or daily pattern. Consult a health care practitioner for use beyond 4 weeks.
Avoid taking with alcohol or products that cause drowsiness. Consult a health care practitioner prior to use if you are taking medications for seizure, blood pressure, to suppress the immune system (immunosuppressive medications), to affect mental state or increase sedation, steroids or blood thinners. Consult a health care practitioner prior to use if you have cardiovascular, immune, liver or chronic kidney disease, hormonal or seizure disorders, asthma, depression, diabetes, low blood sugar, or migraine. Consult your health care practitioner if sleeplessness persists for more than 4 weeks (chronic insomnia).
Known adverse reactions: Stop use if allergy occurs or if you experience headache, confusion, or nausea.
Contraindications: Do not drive or use machinery for 5 hours after taking melatonin. Do not use this product if you are pregnant or breastfeeding.
Keep out of reach of children.
Do not use if safety seal under child-resistant bottle cap is broken or missing. Keep bottle tightly closed. Avoid excessive heat and direct sunlight. Store at room temperature (15°C–25°C).

MEDICINAL INGREDIENTS
Melatonin 2.5 mg

NON-MEDICINAL INGREDIENTS
Glucose, sugar, water, pectin, citric acid, strawberry flavour, elderberry juice concentrate, sodium citrate, coconut oil, carnauba wax.
Estimated delivery: between 1-2 days in Ontario/Quebec and 1-4 days Canada-wide