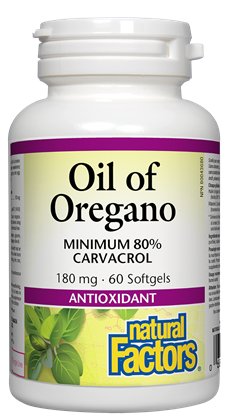 Oil of Oregano 180mg 60 softgels
Oil of Oregano is a potent herbal antimicrobial that effectively tackles bacterial, yeast, fungal, and parasitic infections. It offers powerful antioxidant protection and immune system support, and helps relieve various respiratory conditions. Natural Factors Organic Oil of Oregano is derived from wild-crafted Origanum vulgare using gentle steam distillation to ensure purity.
Medicinal ingredients
| | |
| --- | --- |
| Each Softgel Contains: | |
| Organic Oil of Oregano* (Origanum vulgare) (leaf) (minimum 80% carvacrol) | 180 mg |
| Vitamin E (d-alpha tocopherol) (non-GMO sunflower) | 1 mg AT (1.49 IU) |
| *Derived from wild-crafted Mediterranean oregano. The oil is extracted from the hand picked leaves using steam-distillation, ensuring that the oil is chemical-free. | |
Non-medicinal ingredients
Softgel (gelatin, glycerin, purified water), organic cold pressed extra virgin olive oil.
Estimated delivery: between 1-2 days in Ontario/Quebec and 1-4 days Canada-wide