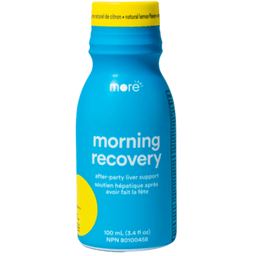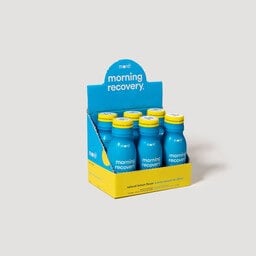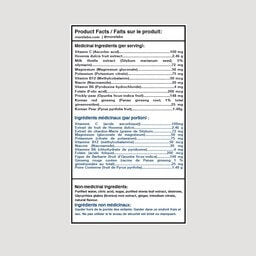 More Labs created products that are as effective for your body as possible. They use patented technology and ensure ingredients can be easily and quickly digested and absorbed. More Labs never uses artificial flavors or colours — just the ingredients your body needs for liver function support.

Morning Recovery's proprietary blend contains an optimized mixture of vitamins, minerals, and herbal extracts to help maintain the body's ability to metabolize nutrients and support liver function. This unique Hovenia extract was tested in a double-blind, placebo-controlled clinical study, and results showed that it can effectively support liver function.

Directions: Drink the contents of 1 bottle (100mL). Right before you drink, or between drinks or right after you drink.

Medicinal Ingredients: Vitamin C, Hovenia dulcis fruit extract, Milk thistle extract, Magnesium, Potassium, Vit B12, Niacin, Vit B6, Folate, Prickly-pear, Korean red ginseng Korean pear.

Non-medicinal Ingredients: Purified water, Citric acid, Cane sugar, Purified stevia leaf extract, Dextrose, Glycyrhzia, Glabra root extract, Ginger, Trisodium citrate natural flavour.

Consult a health care practitioner prior to use if you are pregnant, breastfeeding, have diabetes, are taking antidepressant medication, blood thinners or digoxin or for use beyond 3 months. Stop use if hypersensitivity/allergy occurs or if you experience insomnia, anxiety or headaches.
Estimated delivery: between 1-2 days in Ontario/Quebec and 1-4 days Canada-wide