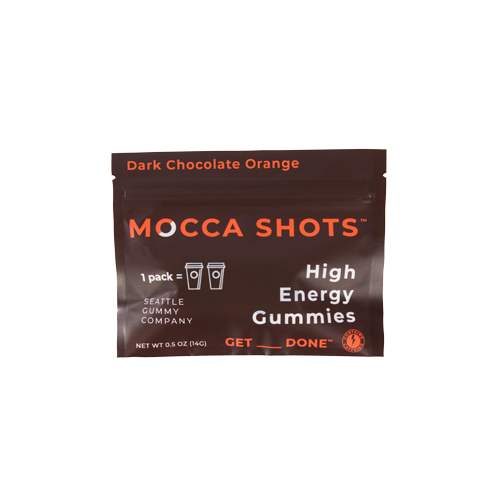 Mocca Shots Energy Gummies- Dark Chocolate Orange
Mocca Shots High Energy Gummies work 5x faster than coffee at half the price. A unique combination of caffeine, vitamin B complex, and herbal nootropics helps boost energy, improve focus, and enhance cognitive performance without jittery side effects, so you can GET DONE, anytime, anywhere.
Other caffeinated products, like coffee and tablets, take 45 minutes for your body to digest. However, caffeine in Mocca Shots dissolves and absorbs quickly through the tissues of the mouth (mucosal delivery) allowing you to feel the full caffeine kick within minutes!
INGREDIENTS: TAPIOCA SYRUP OR RICE SYRUP, BEET OR CANE SUGAR, FRUIT SUGAR (FRUCTOSE), CYCLODEXTRIN, ORGANIC COCOA POWDER, FRUIT PECTIN, ORGANIC NATURAL CAFFEINE, ORGANIC COCOA BUTTER, CITRIC ACID, NIACIN (VITAMIN B3), GINKGO BILOBA EXTRACT, SODIUM CITRATE, VITAMIN B6, VITAMIN B2, VITAMIN B12, NATURAL FLAVOR.
Safety Information: Not recommended for young children, pregnant or nursing women, or persons sensitive to caffeine. The American Academy of Pediatrics discourages the consumption of caffeine and other stimulants by children and adolescents.
Legal disclaimer: Statements regarding dietary supplements have not been evaluated by the FDA and are not intended to diagnose, treat, cure, or prevent any disease or health condition.
Estimated delivery: between 1-2 days in Ontario/Quebec and 1-4 days Canada-wide