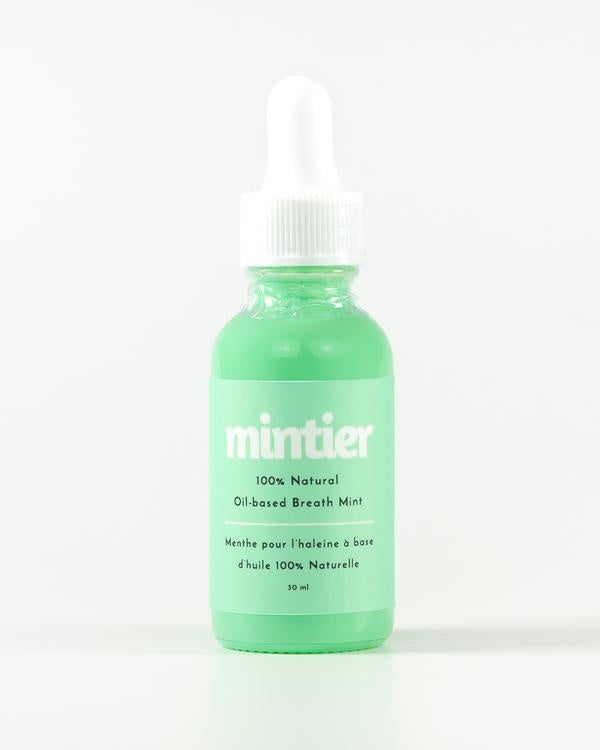 Mintier 100% Natural Oil Based Breath Mint 30ml
Made in Canada • No Sugar • Sugar Alcohols
Mintier is a first-of-its-kind product rooted in hopes to revolutionize an age-old category with the simple thought of, "there must be a better way".
Traditional mints and gum are mostly composed of sugar or sugar alcohols. This means they are basically just candy.
Since sugar feeds the oral bacteria in your mouth, making bad breath worse and at an accelerated rate, we went on a mission to take the sugar and sugar alcohols out of mint... finally.
Mintier is an oil-based breath mint, and it is a total game changer with one serving lasting up to 60 minutes of fresh breath. Each bottle has 120 servings of fresh breath, designed to come with you on-the-go for over 4 weeks at a time.
Ingredients/Ingrédients
Caprylic/Capric Triglyceride, Mentha piperita (Peppermint) Oil, Mentha Viridis, (Spearmint) Leaf Oil, Citrus Limon (Lemon) Leaf Oil, Eugenia Caryophyllus (Clove) Leaf Oil, Cinnamomum Zeylanicum Leaf Oil
Directions
For mintier fresh breath, consume 1/2 dropper.
Mode d'emploi
Pour une haleine fraîche et mentholée, prendre un demi-compte-gouttes.
Estimated delivery: between 1-2 days in Ontario/Quebec and 1-4 days Canada-wide