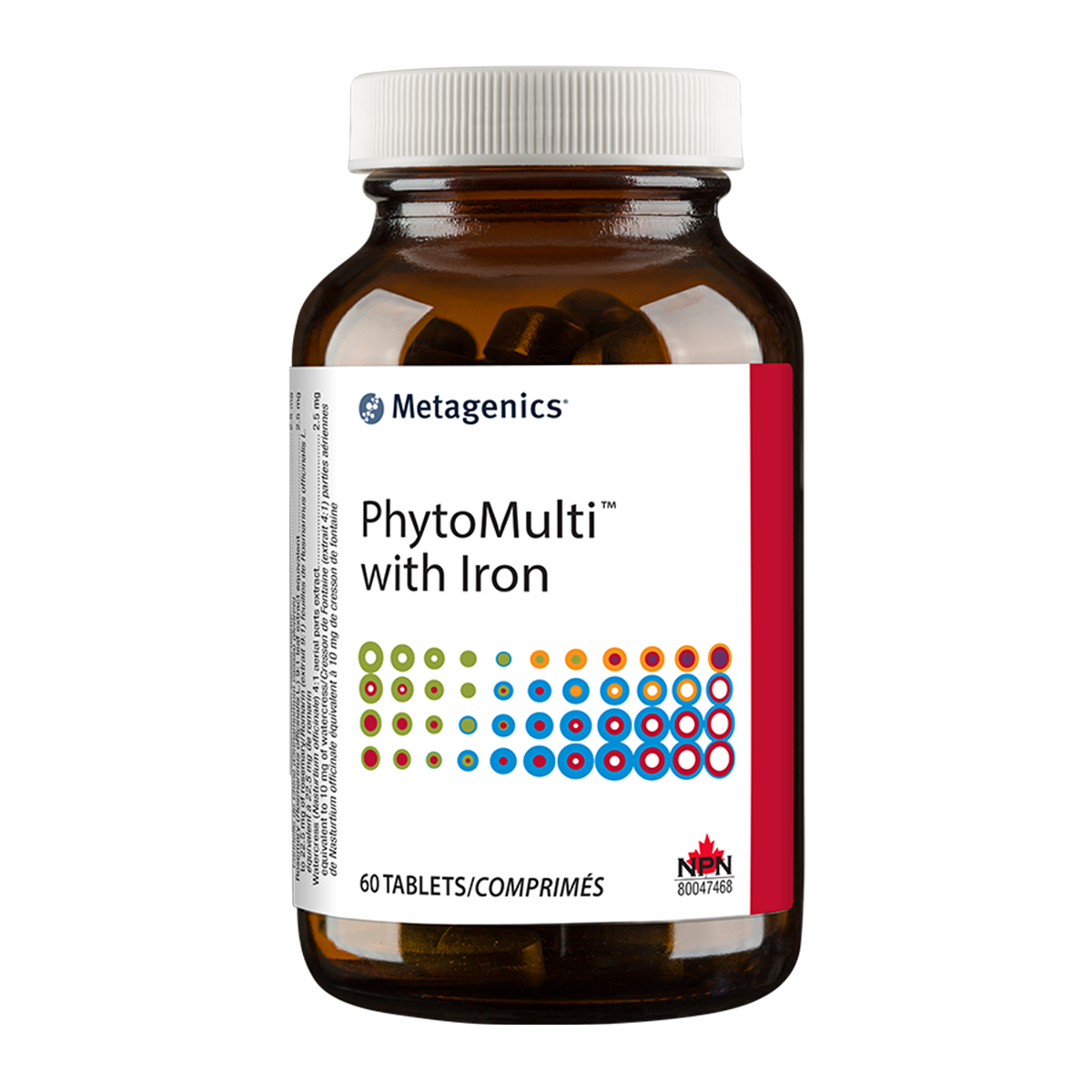 Metagenics Phyto Multi Multivitamin w/Iron 60 tabs
Label & Product Facts
| Medicinal Ingredients | Amount | % |
| --- | --- | --- |
| Citrus Bioflavonoids (Citrus sinensis L., Citrus reticulata) fruit extract standardized to 45% hesperidin | 61 mg | |
| Vitamin C (ascorbic acid, ascorbyl palmitate) | 60 mg | |
| Green Coffee Bean Extract (Coffea arabica) containing 45% chlorogenic acid | 53 mg | |
| Pomegranate (Punica granatum) 9:1 whole fruit extract equivalent to 351 mg of pomegranate | 39 mg | |
| Pantothenic Acid (calcium d-pantothenate) | 37.5 mg | |
| Vitamin E (d-alpha tocopheryl succinate) | 33.5 mg | |
| Magnesium (magnesium citrate) | 20 mg | |
| Niacinamide | 18.75 mg | |
| Choline (choline bitartrate) | 12.5 mg | |
| Inositol | 12.5 mg | |
| Vitamin B6 (pyridoxine HCl) | 12.5 mg | |
| Thiamin (thiamin mononitrate) | 12.5 mg | |
| Grape (Vitis vinifera) seed extract standardized to 90% polyphenols | 12.5 mg | |
| Blueberry (Vaccinium spp.) fruit extract Blueberry (Vaccinium spp.) fruit extract standardized to 20% polyphenols, 15% anthocyanins | 10 mg | |
| Iron (iron bisglycinate) | 9 mg | |
| Green Tea (Camellia sinensis) leaf extract standardized to 60% catechins, 40% EGCG | 8.3 mg | |
| Riboflavin | 7.5 mg | |
| Zinc (zinc citrate) | 7.5 mg | |
| Niacin | 6.25 mg | |
| Resveratrol (Polygonum cuspidatum) | 5 mg | |
| Lycopene | 3 mg | |
| Lutein | 3 mg | |
| Artichoke (Cynara scolymus L.) 10:1 leaf extract equivalent to 25 mg of artichoke | 2.5 mg | |
| Chinese Cinnamon (Cinnamomum cassia) (bark) | 2.5 mg | |
| Rosemary (Rosmarinus officinalis L.) 9:1 leaf extract equivalent to 22.5 mg of rosemary | 2.5 mg | |
| Watercress (Nasturtium officinale) 4:1 aerial parts extract equivalent to 10 mg of watercress | 2.5 mg | |
| Prune (Prunus domestica) 40:1 skin extract equivalent to 100 mg of prune | 2.5 mg | |
| Bitter Melon (Momordica charantia) 10:1 fruit extract equivalent to 25 mg of bitter melon | 2.5 mg | |
| Indian Gum-Arabic-Tree (Acacia nilotica) 4:1 bark & heartwood extract equivalent to 10 mg of Acacia nilotica | 2.5 mg | |
| Beta-Carotene | 1.5 mg | |
| Zeaxanthin | 1 mg | |
| Vitamin A (retinyl acetate) | 750 mcg | |
| Copper (copper citrate) | 0.5 mcg | |
| Folate (calcium L-5-methyltetrahydrofolate) | 400 mcg | |
| Manganese (manganese citrate) | 0.25 mcg | |
| Biotin | 250 mcg | |
| Vitamin B12 (methylcobalamin) | 100 mcg | |
| Chromium (chromium polynicotinate) | 100 mcg | |
| Iodine (potassium iodide) | 75 mcg | |
| Vitamin K (phytonadione) | 60 mcg | |
| Selenium (HVP‰ÛÊ chelate) | 50 mcg | |
| Molybdenum (HVP‰ÛÊ chelate) | 25 mcg | |
| Vitamin D (cholecalciferol) | 12.5 mcg | |
Non-Medicinal Ingredients: Cellulose, croscarmellose sodium, stearic acid (veg), silicon dioxide, and coating (hypromellose, hydroxypropylcellulose, medium-chain triglycerides, and sodium copper chlorophyllin).
Recommended Dose: Adults take 2 tablets daily with food or as directed by your healthcare practitioner. Take a few hours before or after taking other medications.
Recommended Use: To provide antioxidants, vitamins and minerals for the maintenance of good health.
Caution: Do not use if you are pregnant. People sensitive to nicotinic acid may experience flushing of the skin that is generally mild and transient. Consult a healthcare practitioner if breastfeeding, taking prescription medications or blood thinners. Consult a healthcare practitioner for use beyond 12 weeks. Keep out of reach of children. There is enough iron in this package to seriously harm a child. Do not use if perma seal is missing.
This product is non-GMO and gluten-free.
Estimated delivery: between 1-2 days in Ontario/Quebec and 1-4 days Canada-wide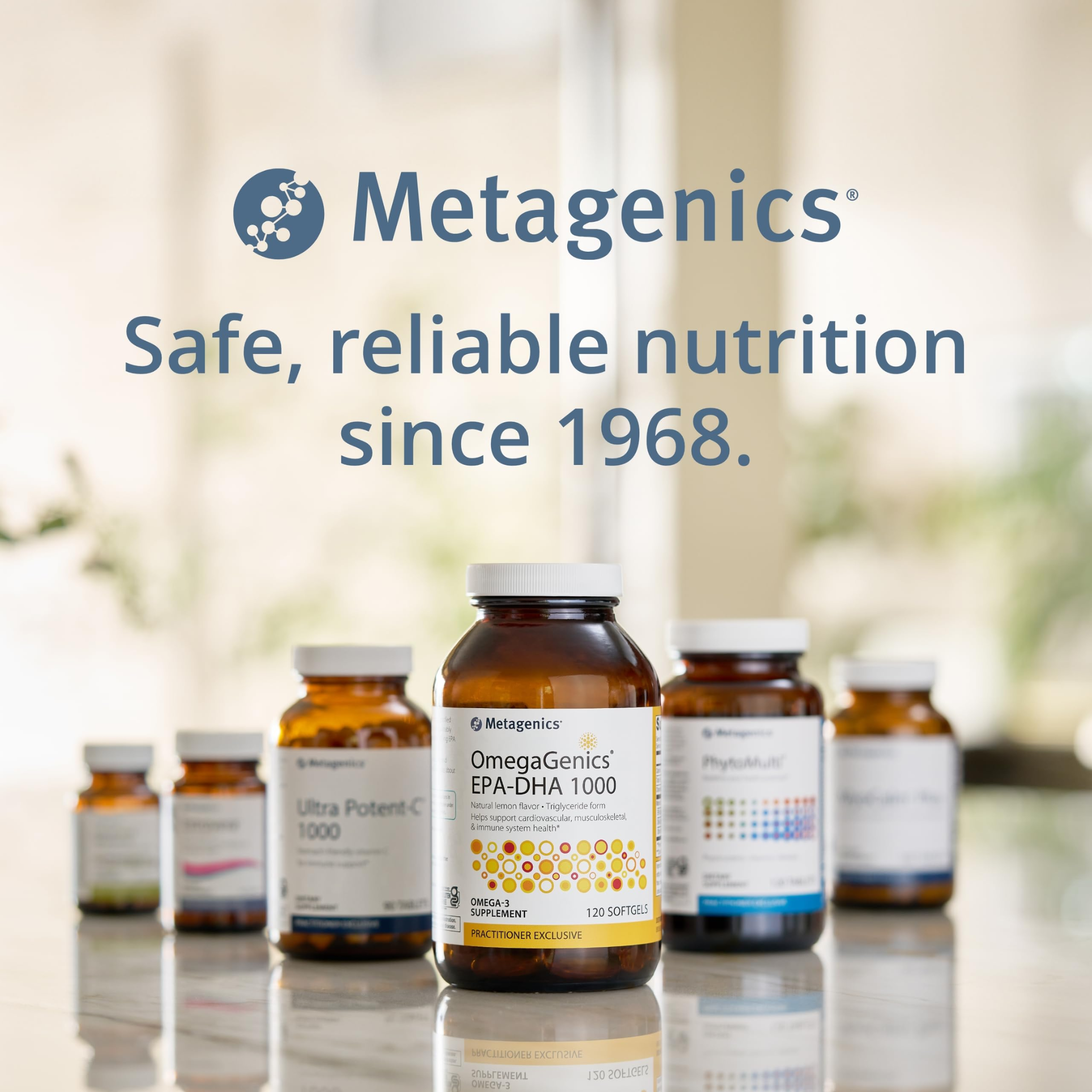 Metagenics
Gold standard of scientific credibility, quality, innovation, and sourcing transparency.
Shop Now