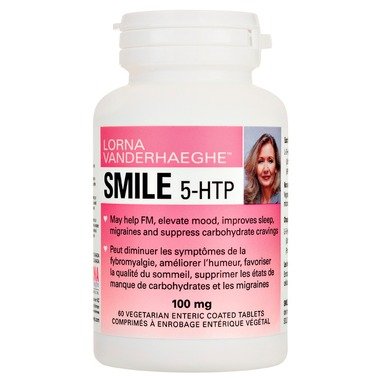 Lorna SMILE 5-HTP 60 100mg enteric coated tablets
5-HTP can help improve mood, aid sleep, encourage weight loss, and improve fibromyalgia symptoms. 5-HTP is a break-down product of the amino acid tryptophan. 5-HTP is then turned into serotonin. Serotonin is the neurotransmitter that makes you happy and tells your brain that you are satisfied. Serotonin deficiency contributes to weight gain, anxiety, depression, sleeplessness and panic attacks. Low serotonin levels also lead to carbohydrate (sugar) cravings and overeating. 5-HTP reduces appetite while also enhancing mood and increasing energy levels.

SMILE 5-HTP is enteric-coated, which allows 5-HTP to be absorbed in the small intestine.

Features:
Improves mood
Enhances serotonin, our happy hormone
Reduces severity and duration of migraines
Reduces PMS symptoms
Aids restful sleep
Reduces menopausal stress
Provides fibromyalgia relief
Reduces panic attacks
Aids weight management
Suggested Usage: Take1-2 tablets before breakfast, dinner and bedtime on an empty stomach or as directed by a health care practitioner. Keep out of reach of children.

Note: If you are taking MAO inhibitors, SSRIs (Prozac, Luvox, Paxil, Effexor, Zoloft) and/or the tricyclic antidepressants (Elavil, Tofranil, Pamelor) or St. John's wort, do not take 5-HTP without discussing it with your health care provider. 5-HTP can be used to wean off antidepressants. Discuss any medication changes with your health care provider.

Each Capsule Contains:



This product does not contain artificial colours or sweeteners, dairy, soy, shellfish, corn, wheat or yeast. VEGAN-FRIENDLY. GLUTEN-FREE.
Estimated delivery: between 1-2 days in Ontario/Quebec and 1-4 days Canada-wide