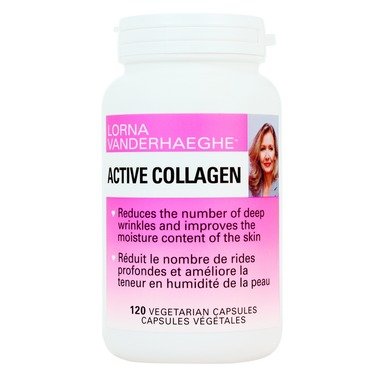 Lorna Active Collagen 120 veg caps
Sourced from European waters to meet the highest standards of purity, Active Collagen is a marine ingredient composed of collagen and elastin polypeptides present in the same ratio that is naturally found in skin. Active Collagen has a synergistic anti-wrinkle action: when taken orally, collagen and elastin stimulate the skin to lift and tone sagging areas and minimize lines and wrinkles.

Active Collagen can also increase the moisture level of dry skin and fight aging related to free radical damage. Active Collagen polypeptides have a low molecular weight, making it water-soluble and easily absorbed by the body.

Features:
Enhances collagen and elastin
Lifts and tones sagging areas
Increases skin moisture
Protects against free radical sun damage to skin
Works fast with excellent clinical research
Improves hair thickness
Improves bone mineral density and joint disease
Stops brittle nails
Suggested Usage: Take 4 capsules per day with food.

Each Capsule Contains:



This product does not contain artificial colours or sweeteners, dairy, soy, shellfish, corn, wheat or yeast. GLUTEN-FREE.
Estimated delivery: between 1-2 days in Ontario/Quebec and 1-4 days Canada-wide