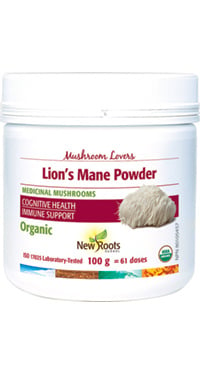 New Roots Lion's Mane Powder 100g
Hericium erinaceus, known as lion's mane in North America, is recognized among the leading mushroom species for immune enhancement. Treasured by herbalists and mushroom hunters, it's also gaining popularity for mental clarity, and it ranks among the most popular mushrooms for clinical research.
Lion's Mane Powder is an excellent way to boost immunity. In convenient powder form, simmering between five and twenty minutes increases potency and health benefits. It can also be added to soups, stews, and sauces, or incorporated into soothing, custom tea blends.
New Roots Herbal's certified organic Lion's Mane Powder is 100% pure and made with mushrooms grown in climate-controlled greenhouses on species-specific organic matter, free from herbicides, pesticides, and heavy-metal contamination. With 61 doses, each 100‑gram container is good for a minimum of two months.
Adults: Take ¼ teaspoon daily or as directed by your health-care practitioner. Use boiling water. Steep covered for 5 to 20 minutes before ingesting. Simmering will increase potency and benefits.
Contains no: Gluten, soy, wheat, corn, eggs, dairy, yeast, citrus, preservatives, artificial flavour or colour, starch, or sugar.
Cautions and warnings: Consult a health-care practitioner prior to use if you are pregnant or breast‑feeding.
Do not use if seal is broken. Keep out of reach of children.
INGREDIENTS
Estimated delivery: between 1-2 days in Ontario/Quebec and 1-4 days Canada-wide